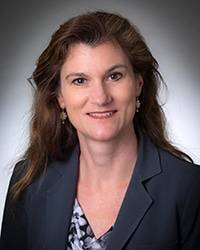 Lisa M. Thakur, FACHE
Corporate Senior Vice President, Ancillary Operations
Lisa Thakur was named Corporate Senior Vice President of Ancillary Operations in January 2018. In her role she is responsible for all services and business at Scripps that are not hospital or ambulatory care. This includes home health, laboratory, imaging and other business services.
Thakur joined Scripps Health in 1998 at Scripps Memorial Hospital La Jolla, where she was first chief financial officer and later chief operating officer. In 2013, she was one of four site executives tapped to move Scripps toward a horizontal, matrixed organizational structure. As corporate vice president, clinical and support services, Thakur took system responsibility over supply chain, endoscopy, perioperative services and pharmacy, bringing new system alignment to these functions which resulted in cost savings of $130 million over six years. 
Prior to joining Scripps Health in 1998, Lisa worked as a finance and business manager at Good Samaritan Medical Center in Phoenix. She also managed financial operations and human resources for Freedom Plaza Retirement Center/Care Center in Peoria, Arizona.
Thakur is a Certified Public Accountant (CPA) and a member of the American Institute of Certified Public Accountants. She currently serves on the National Board of Examiners for the Healthcare Financial Management Association, where she is a past member of the National Advisory Council. She also is a member of the Association for Healthcare Resource & Materials Management and the Association of Perioperative Registered Nurses. And, as a fellow of the American College of Healthcare Executives, she also served as president of the San Diego chapter. 
Thakur holds a Bachelor's degree in Business Administration from the University of Washington, and a Master of Business Administration from Arizona State University. In 2010, she received the Tribute to Women in Industry (TWIN) award from the YWCA. And in 2014, she received a Medal of Honor from the Healthcare Financial Management Association as well as an ACHE Regent's Award.