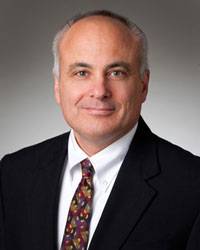 Richard R. Sheridan, General Counsel, Corporate Executive Vice President Human Resources
Richard Sheridan is general counsel and corporate executive vice president of human resources for Scripps Health.
As the senior executive of human resources, Sheridan leads Scripps' personnel, benefits and compensation programs. As general counsel, he supervises the provision of all legal services to the organization. Sheridan also provides executive leadership for internal audit, compliance, information security, and quality, risk management and performance improvement efforts.
Prior to joining Scripps, Sheridan worked at the San Francisco law firms of Hanson, Bridgett, Marcus, Vlahos & Rudy, and Hassard, Bonnington, Rogers & Huber where he focused on hospital and medical legal issues.
Sheridan attended Stanford Law School and Boston University School of Law, where he received his J.D. He is a member of the California State Bar, the American Health Lawyers Association, the American Bar Association (Health Law Section), and the California Society for Healthcare Attorneys where he is a past president. He is a member of the Board of Visitors of California Western Law School and serves as the corporate secretary on the Scripps Health Board of Trustees.