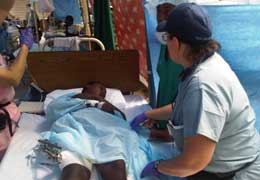 Scripps Health immediately responded when an earthquake struck Haiti on Jan. 12, 2010, providing much-needed humanitarian relief, medical supplies and care.
In response to continued suffering in the nation of Haiti following its devastating earthquake, Scripps Health has been working with Hospital Saint Francois de Sales in Port-au-Prince to help provide desperately needed medical care.
Select teams of physicians, nurses and support staff — with all the supplies they can carry — have been performing surgery and providing other necessary medical care in one of the hardest-hit regions of Port-au-Prince. The hospital is operated by the Catholic Church and Scripps is providing staffing and supplies at the request of Archbishop Bernardito Auza, Papal Nuncio and existing hospital staff.
The extent of future missions is yet to be determined, but will be based on continuing need and ongoing logistical concerns.
Scripps CEO Haiti Journal
While serving a medical mission to Haiti, Scripps CEO Chris Van Gorder wrote dispatches about medical aid in progress, conditions on the ground and what could be done to help earthquake victims. Read Chris' journal entries.
Hear the relief team reflect on their experiences serving two Haiti relief missions in January and February, 2010.