Community Health Improvement Services
Prevention, wellness and health promotion efforts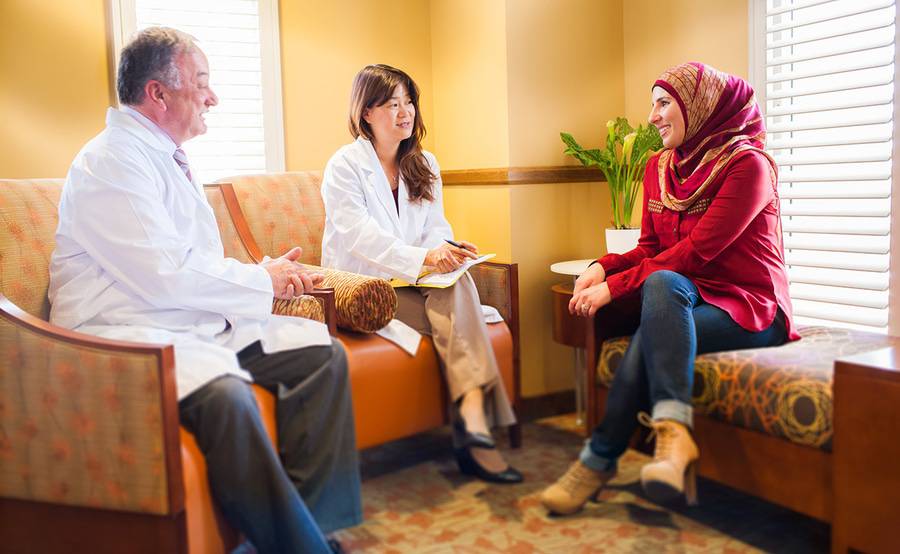 Prevention, wellness and health promotion efforts
Community health improvement efforts at Scripps Health include community health education and prevention services. Such services do not generate patient bills, although they may involve a nominal fee.
In fiscal year 2018, Scripps invested more than $10.2 million in services aimed at improving community health, subsidized health services and community building activities.
To learn more, view the 2019 Community Benefit Report. (PDF, 12 MB)
Scripps has developed a series of prevention and wellness programs designed to educate people about prevention, early detection and treatment. Our programs include:
Cancer care
Heart care
Diabetes
Health behaviors such as flu vaccination and smoking cessation
Substance abuse
Maternal health
Community health services and programs
Read the following stories to learn more about the steps Scripps is taking to keep the community healthy:
Diabetes care and prevention programs
Scripps Whittier Diabetes Institute provides education and counseling to thousands of people each year to help them learn to manage their diabetes effectively. Group classes held in English and Spanish cover all aspects of diabetes care, including, diet, lifestyle, blood sugar monitoring, medications, coping skills, insulin management, technology and more. Individualized nutrition consultation and meal planning are also available. Scripps has been awarded preliminary recognition by the Centers for Disease Control as a National Diabetes Prevention Program provider, a national initiative developed to help prevent diabetes.
The Woltman Family Diabetes Care and Prevention Center in Chula Vista, serves one of San Diego's communities hit hardest by the diabetes epidemic, and offers a full range of wellness, prevention, diabetes education and nutrition services in English and Spanish.
Healthy living program tackles chronic diseases
Diabetes, heart disease, cancer and respiratory disease are the four most prevalent serious chronic diseases in California. These diseases cause 50 percent of all deaths in San Diego and throughout the US, and many people have more than one of these conditions.
Because lifestyle can play a major role in preventing these chronic illnesses, Scripps introduced Healthy Living, a free, interactive education program to help the San Diego community learn about and adopt practical ways to improve three behaviors — smoking, poor diet and physical inactivity — that contribute to these four diseases. Sessions are offered in English and Spanish, with special emphasis on the Latino population and underserved communities.
Participants also receive a prediabetes screening; those who score high are then referred to the Scripps Diabetes Prevention Program.
Reducing childhood obesity in the South Bay
Scripps also addresses childhood obesity at the high school level in San Diego's South Bay communities through its partnership with the Promise Neighborhood initiative, which implements activities related to the national 5210 campaign. The message is to promote a healthy lifestyle of 5-2-1-0 (5 servings of fruits and vegetables, 2 hour screen time limit, 1 hour of physical activity and 0 sugary drinks) per day. This five session series is designed to increase knowledge and behaviors regarding a healthy lifestyle. The series includes hands-on activities and demonstrations. Scripps partners with the Promise Neighborhood Initiative and Castle Park Elementary School to increase education and awareness about healthy lifestyles for students, their parents and school staff.
Promise Neighborhood developed a wellness committee composed of the school principal, teachers, parents and Scripps staff designated to implement activities that support the 5-2-1-0 principle.
School administrators and staff are closely involved in the program, which includes five educational sessions, a health assessment survey, health plan and support to help the students pass their yearly physical education requirements.
Since 2013, more than 400 children and 200 parents have participated in wellness activities on campus. As a result of activities, lesson plans and advocacy for healthy living, the amount of physical activity and consumption of fruits and vegetables by children, parents and staff has increased. Student responses via a 5210 post health assessment survey showed that there was an 80 percent improvement rate for knowledge after participating in the 5210 sessions and a 38 percent improvement rate for behavior after participating in the 5210 sessions.
Screening athletes for sudden cardiac arrest
Every year, three to five student athletes in San Diego County die suddenly and unexpectedly from sudden cardiac arrest/death, an abnormality in the heart's electrical system that can happen without symptoms or warning signs. However, this life-threatening condition can be detected with a cardiac screening exam.
Scripps Mercy Hospital Chula Vista, Family Medicine Residency, Southwest Sports Wellness Foundation and the Sweetwater Union High School District partner to prevent sudden cardiac arrest and death among high school students by increasing awareness of the importance of healthy lifestyles and cardiovascular screenings among active students.
Family medicine residents offer yearly cardiac screening and sports physicals before students participate in organized sports, and implement an injury clinic during football season to evaluate and treat possible concussions and other injuries.
Fighting food insecurity with the Food Finders partnership
Through a new partnership between Scripps Corporate Food Service and Food Finders, a nonprofit group that distributes food to people in need, all leftover food from Scripps corporate facilities is packaged, picked up each day and transferred to the Scripps 4S Ranch Food and Nutrition Services freezer for storage. Food Finders picks up the frozen food twice per week and transports it to one of their facilities to help feed our community.
"This community outreach from Scripps with the help of the nonprofit is what we are about at the end of the day," said Fri Reyes, director of culinary services for Scripps Corporate Food Service. "We were able to touch more lives and offer a more positive culinary change that our less-fortunate neighbors desperately need. "
Oncology nurse navigators guide patients through care
When someone learns they have cancer, their life can change in an instant. In addition to concerns about their future and how the disease will affect their loved ones, cancer patients may suddenly find themselves navigating multiple appointments, tests and treatments, as well as logistical questions and emotional issues. It's no wonder that a cancer diagnosis often feels overwhelming.
To help patients manage these challenges, Scripps MD Anderson Cancer Center has been expanding its Nurse Navigator Program. Nurses who are specially trained in oncology (the study and treatment of cancer), nurse navigators provide support and encouragement to help patients through their cancer journey into survivorship. Navigators contact patients who are newly diagnosed with cancer, ensure that they understand all tests and procedures, and let them know what to expect from their care. They also provide education, help coordinate appointments and facilitate communication between patients and their care teams. All of this helps empower patients to make informed decisions and play an active role in their care.
In addition, nurse navigators provide compassionate guidance by helping patients deal with treatment side effects and identifying support groups, classes and events, and other community resources. They also offer family members and caregivers support to guide their loved ones to the best possible outcome.
Scripps MD Anderson Cancer Center currently has nine nurse navigators partnering with patients and plans to add three in the coming year.
Parkinson's event empowers hundreds
It was a day of hope and inspiration for hundreds of San Diegans living with Parkinson's disease (PD).
In November 2018, more than 300 guests learned new ways to take control of their health at the Empowerment for Parkinson's Day at Marina Village. From the benefits of exercise and diet change to massage, acupuncture and even music therapy, attendees left the event armed with knowledge to help make positive changes.
Empowerment for Parkinson's was the culmination of work that began 10 years ago. Several Scripps physicians and employees decided to create a motivational day of exercise, confidence-building and education that included neurologists, psychologists, integrative doctors, exercise specialists, physical therapists and more. From this, the annual Keep Moving with Parkinson's Bootcamp was born.
Following the May 2017 bootcamp, the Parkinson's Association of San Diego (PASD) asked the team to share their model to create an even larger-scale event. The partnership with PASD and others opened the door to more than triple the amount of people reached in one day who discovered options to alleviate symptoms and improve quality of life.
Trauma holds first San Diego County lifeguard education conference
The trauma catchment area for Scripps Memorial Hospital La Jolla includes most of the San Diego County coastline — and lifeguards are often the first responders to beach-related emergencies.
In July 2018, the trauma department at Scripps La Jolla hosted the First San Diego County Lifeguard Education Conference. More than 150 permanent and seasonal lifeguards representing all 11 San Diego County lifeguard agencies learned vital information about topics including beach injuries and illnesses, drowning resuscitation, shark attacks, sand entrapment and spinal cord injuries, as well as skin cancer prevention tips for the lifeguards themselves.
"You did an incredible job and it is so appreciated," said Mike Silvestri, Lifeguard Supervisor from California State Parks.
The trauma department plans to continue this partnership to provide education and help lifeguards further identify opportunities for community outreach and injury prevention.
Scripps provides hepatitis A vaccines to at-risk populations
Scripps Health builds awareness of disaster preparedness and actively responds to events to affect change at the community level. Following the terrorist attack of September 11, 2001, Scripps developed a system-wide disaster preparedness program and moved quickly to integrate disaster preparedness throughout the organization's operations. The Scripps Medical Response Team (SMRT) arose from these efforts, and prepares Scripps to respond to emergencies at local, state, national and international levels.
In Fiscal Year 2018, when San Diego Mayor Kevin Faulconer asked Scripps to help address the Hepatitis A outbreak, the Scripps SMRT team worked directly with city and county public health officials to make vaccinations accessible to individuals at risk of the highly contagious virus.
SMRT teams including physicians, nurses and support personnel administered vaccinations and provided education on Hepatitis A at three county-sponsored housing sites over multiple dates and times. Each site housed numerous occupants, many of whom had risk factors including homelessness or substance abuse recovery. Occupants were notified in advance that we would be offering vaccinations without cost. For their own protection, all volunteers were required to show proof of immunity to Hepatitis A or get vaccinated prior to the outreach.
SMRT volunteers vaccinated approximately 100 people against Hepatitis A; Scripps staff then entered their vaccination history into the San Diego Immunization Program webpage to track all individuals who received the vaccine. This helped prevent unnecessary revaccination of people who came to local emergency departments and primary care offices for care.
Because the risk factors associated with the outbreak persist in our community, Scripps employee health offers Hep A vaccinations to all employees considered at risk, especially those who work in the emergency department, behavioral health and food service.