Community Health Improvement
These activities work to improve community health, and include community health education and prevention services. Such services do not generate patient bills, although they may involve a nominal fee.
In fiscal year 2016, Scripps invested more than $8 million in services aimed at improving community health and subsidized health services.
To learn more, view the 2017 Community Benefit Report. (PDF, 11 MB)
Scripps has developed a series of prevention and wellness programs designed to educate people about prevention, early detection and treatment. Our programs include:
Cancer care
Heart care
Diabetes
Health behaviors such as flu vaccination and smoking cessation
Substance abuse
Maternal health
Read the following stories to learn more about the steps Scripps is taking to keep the community healthy:
Stopping diabetes in its tracks
Stopping diabetes in its tracks
With 29 million people living with diabetes in the United States and another 86 million at high risk of developing it (a condition known as prediabetes), diabetes is an epidemic. Without a healthy weight and moderate physical activity, 15 to 30 percent of people with prediabetes will develop type 2 diabetes within five years. 
However, research demonstrates that structured lifestyle interventions can cut the risk of type 2 diabetes in half. The National Diabetes Prevention Program (DPP) is a public-private initiative established by the Centers for Disease Control (CDC) that aims to prevent type 2 diabetes by offering evidence-based, cost-effective lifestyle-change programs in communities across the United States.
In San Diego County, Scripps aims to decrease the incidence of type 2 diabetes by promoting healthy lifestyles in underserved, ethnically diverse populations. Scripps is offering an intensive lifestyle intervention program to empower patients with prediabetes to take charge of their health and adopt behaviors that lead to weight loss, proper nutrition, physical activity and stress management.
Groups of individuals meet with a community health promoter/lifestyle coach for 16 weekly, one-hour sessions, with six to eight monthly follow-up sessions.
In addition to examining the effectiveness of the DPP in reducing BMI and weight, thereby reducing diabetes risk, Scripps will study the impact of the program on participants' behavioral and psychological risk profiles. Often, as patients lose weight and improve their physical health, they also experience improvements in their psychological health and overall well-being.
Healthy living program tackles chronic diseases
Healthy living program tackles chronic diseases
Diabetes, heart disease, cancer and respiratory disease are the four most prevalent serious chronic diseases in California. These diseases cause 50 percent of all deaths in San Diego and throughout the U.S., and many people have more than one of these conditions.
Because lifestyle can play a major role in preventing these chronic illnesses, Scripps introduced Healthy Living, a free, interactive education program to help the San Diego community learn about and adopt practical ways to improve three behaviors — smoking, poor diet and physical inactivity — that contribute to these four diseases.
Sessions are offered in English and Spanish, with special emphasis on the Latino population and underserved communities. Participants also receive a prediabetes screening; those who score high are then referred to the Scripps Diabetes Prevention Program.
Reducing childhood obesity in the South Bay
Reducing childhood obesity in the South Bay
Scripps partners with the Promise Neighborhood Initiative and Castle Park Elementary School to increase education and awareness about healthy lifestyles for students, their parents and school staff.
Promise Neighborhood developed a wellness committee composed of the school principal, teachers, parents and Scripps staff designated to implement activities that support the 5-2-1-0 principle: 5 fruits or more a day, 2 hours or less of screen time, 1 hour of physical activity and 0 sugary juices.
In addition to planning and implementing a school-wide wellness event, the committee coordinates presentations for school staff and parents, and integrates campus-wide, sustainable strategies that support healthy eating and active living. The program includes a series of wellness courses for students in the fourth and fifth grades, and physical activities to prepare students to pass the annual state fitness test.
The committee also works with community organizations to plan additional educational events for parents throughout the year in support of 5-2-1-0, such as a series of Healthy Living classes with Scripps Whittier Diabetes Institute. Other activities include a walking club, school food pantry, gardening club, exercise classes for families, cooking demonstrations and events with Scripps family medicine residents.
Since 2013, more than 400 children and 200 parents have participated in wellness activities on campus. As a result of activities, lesson plans and advocacy for healthy living, the amount of physical activity and consumption of fruits and vegetables by children, parents and staff has increased. Based on annual student surveys, 60 percent of students are physically active, compared to 26 percent in previous years.
Screening athletes for sudden cardiac arrest
Screening athletes for sudden cardiac arrest
Every year, three to five student athletes in San Diego County die suddenly and unexpectedly from sudden cardiac arrest/death, an abnormality in the heart's electrical system that can happen without symptoms or warning signs. However, this life-threatening condition can be detected with a cardiac screening exam.
Scripps Mercy Hospital Chula Vista, Family Medicine Residency, Southwest Sports Wellness Foundation and the Sweetwater Union High School District partner to prevent sudden cardiac arrest and death among high school students by increasing awareness of the importance of healthy lifestyles and cardiovascular screenings among active students.
Family medicine residents offer yearly cardiac screening and sports physicals before students participate in organized sports, and implement an injury clinic during football season to evaluate and treat possible concussions and other injuries.
Walking to support a healthy community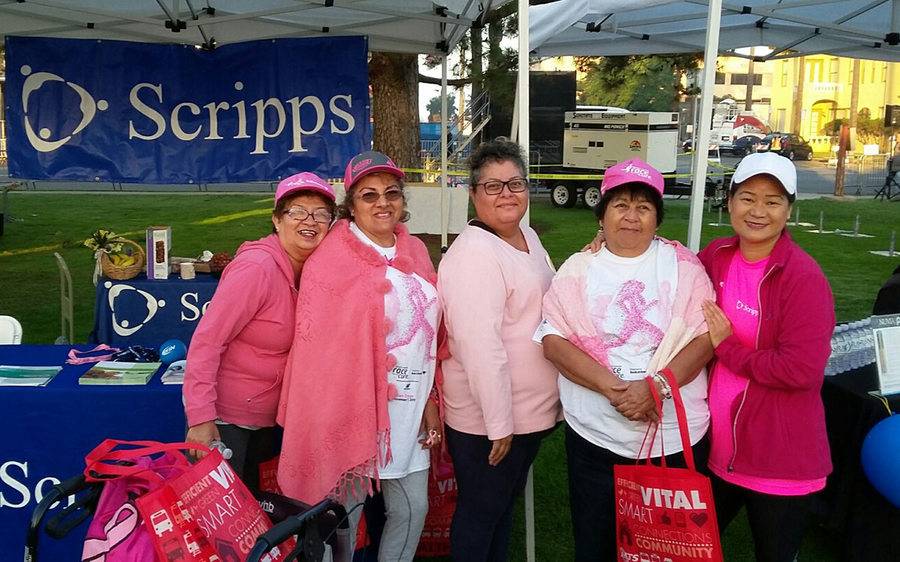 Walking to support a healthy community
Team Scripps participated in several events throughout 2016 to increase awareness and raise funds for life-threatening diseases such as heart disease and cancer. 
American Heart Association Heart Walk
Scripps is a sponsor of the American Heart Association's annual Heart Walk to raise funds for research, professional and public education and advocacy.
Susan G. Komen Race for the Cure
Scripps took part in the Komen Race for the Cure series to support breast cancer research and local breast health initiatives.
American Lung Association Lung Force Walk
Scripps participated in the 2016 Lung Force Walk to raise awareness and funds to fight lung cancer and promote lung health, and sponsored the "Ask a Doc" section of the Heroes Tent, which featured several Scripps physicians.
Leukemia & Lymphoma Society Light the Night
Team Scripps completed the Light the Night Walk to fund research and support for people battling cancer, and Scripps physicians spoke at the event.