How Scripps is making a difference in the San Diego community
In 2016, Scripps contributed more than $369 million to community benefit activities. This includes more than:
$335 million in uncompensated care
$24 million in professional education and research
$8 million in community health services and subsidized health services
In 2016, severe economic conditions continued to affect various industry sectors and organizations, including health care. Despite this, Scripps continues to fully take on the challenge of meeting the health care needs of our community, including the growing number of individuals and families without the ability to pay for these critical services.
Fulfilling the Scripps mission
Commitment to the community is how Scripps Health began, and it's every bit a part of who we are today. Our mission is our promise — to our community, our patients and to ourselves.
For detailed information about our programs and services, view the 2017 Community Benefit Plan and Report. (PDF, 11 MB)
Community benefits defined
Community Benefits is defined as programs or activities that provide treatment or promote health and healing in response to an identified community need.
Community Benefit programs must meet at least one of the following criteria:
Respond to a public health need
Involve education or research that improves overall community health
Respond to needs of special populations
Supply communities with health — related services or programs that operate at a financial loss and would likely be discontinued if the decision was made on a purely financial performance.
Scripps Health community benefit plan and report
The Scripps Health Community Benefit Plan and Report was developed in response to Senate Bill 697. Passed in 1994, the bill requires California's community, not-for-profit hospitals to annually describe and document the full range of community benefits they provide. Scripps has taken this legislative requirement a step further.
This report incorporates not only documentation of community benefits, but also a more detailed explanation of the specific community benefit activities provided on our five acute care hospital campuses, through home health care, our wellness centers and clinics. The report details programs and services that provide benefit to the community over and above standard practices of care. It is categorized into three primary areas:
The report covers the period of Oct. 2015 through Sept. 2016 (Fiscal Year 2016). During this fiscal year, Scripps devoted $368,982,312 to community benefit programs and services in the three areas listed above. Our programs emphasize community-based prevention efforts and use innovative approaches to reach residents at greatest risk for health problems.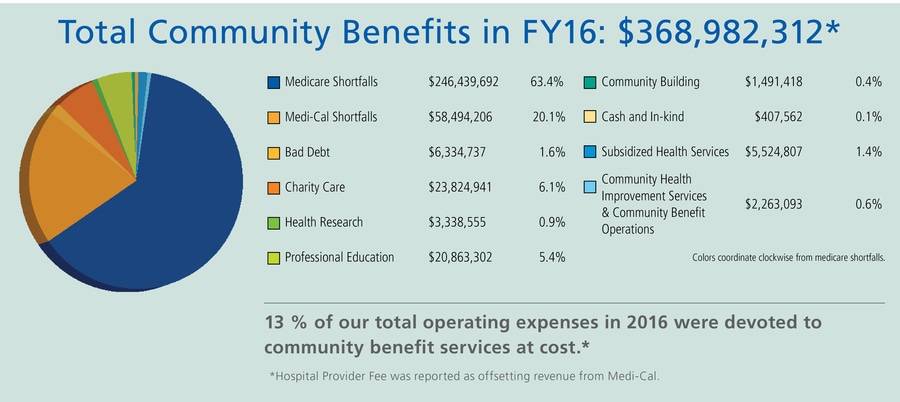 Scripps' commitment to the community
The documentation and activities described in the Community Benefit Report are commitments Scripps makes in order to improve the health of our patients and our San Diego communities.
As a long-standing member of these communities, and as a not-for-profit community resource, our goal and responsibility are to provide help and assistance for all who come to us for care, and to reach out especially to those who find themselves vulnerable and without support. This responsibility is an intrinsic part of our mission. Through our continued actions and community partnerships, we strive to raise the quality of life in the community as a whole.