Professional Education and Research
In fiscal year 2016, Scripps Health allocated more than $24 million to professional education and health research; the majority of which was devoted to Scripps' graduate medical education (GME) programs.
Scripps also provided a wide array of educational and training support to its affiliated physicians, nurses and other care givers, as well as to the community at large.
To learn more, view the 2017 Community Benefit Report. (PDF, 11 MB)
Education, training and support
Scripps provides graduate medical education programs, nursing resource development and other health care professional education.
Read the following stories to learn more about the steps Scripps is taking to educate physicians and youth interested in medicine:
Inspiring young people to enter health careers
As the Affordable Care Act increases the number of people who will soon have insurance, Scripps looks to the future to train the next generation of medical professionals who will care for the community.
Scripps Mercy Hospital Chula Vista reaches out to local students to promote health care careers. More than 2,000 people participate in these programs,offered through the Youth into Health Careers Program. More than 75 percent of these participants begin health care or social service careers.
From kindergartners to teens, there is a program for everyone. An interactive puppet show teaches children about healthy lifestyles, while a five-week mentoring program provides high school students a real-world glimpse into hospital careers.
Students are matched up with professionals based on their interests and career goals. They shadow their mentors twice a week and learn the path they need to take to achieve their goals.
Engaging young leaders in health care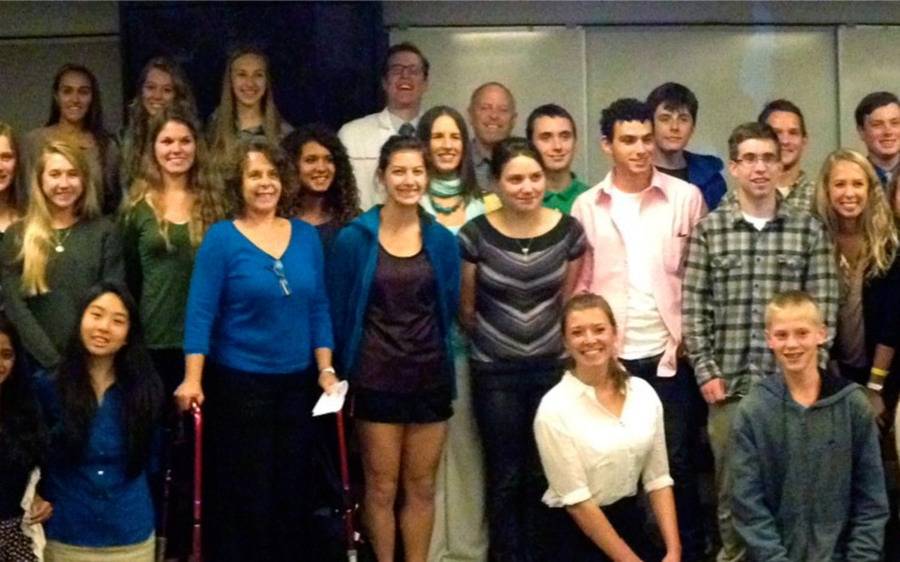 Engaging young leaders in health care
In September 2016, the Alcohol Policy Panel of San Diego County honored Scripps' Young Leaders in Health Care (YLHC) program at Scripps Memorial Hospital Encinitas with a certificate of recognition for their prevention efforts regarding underage drinking, and for their outstanding commitment and dedication to serving and inspiring teens in our community.
Created to educate teens about the hazards of underage drinking and other public health issues, teach them about health care and public health opportunities and mentor them in leadership skills, YLHC began in 2009 with a partnership between San Dieguito Alliance for Drug Free Youth (SDA) and Scripps Health. Scripps employees Jason and Joelle Cook started the program with Scripps Encinitas emergency department physician Andrew Accardi, MD, and his wife, Pasha. 
Scripps began working with local high school clubs, holding meetings on the Scripps Encinitas campus. Over the years, YLHC has grown into a community-based regional club and has supported 12 public and private schools around the county. The students meet once a month at Scripps Encinitas and at their school sites with a teacher advisor. Last year, approximately 90 students attended each meeting.
"The YLHC not only gives high school students an opportunity to understand the health care risks in today's society, but also teaches them to take preventable steps to educate their peers on these risks," notes Joelle Cook. "It has been amazing to watch these kids step up in their schools and communities to educate on the consequences of drug and alcohol abuse in teens."
Training tomorrow's physicians
Scripps has been training future physicians longer than any other institution in San Diego, and giving back to the community in the process. For nearly 70 years, physicians in our graduate medical education programs have helped care for underserved populations throughout the region.
Scripps offers a comprehensive range of graduate medical education programs, including internal medicine residency programs at Scripps Green Hospital and Scripps Mercy Hospital San Diego, and a family medicine program at Scripps Mercy Hospital Chula Vista. In 2016, Scripps enrolled 140 residents and 36 fellows throughout the system.