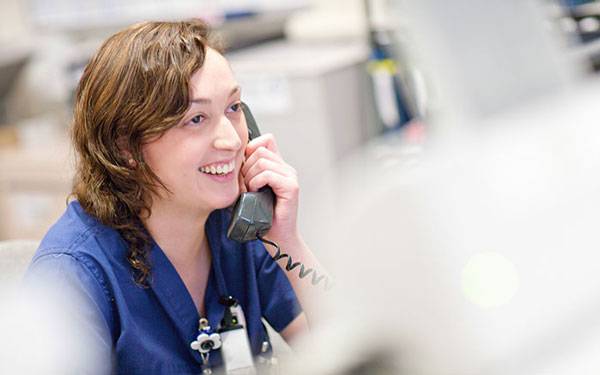 Experience Scripps Health as a Student
Scripps' commitment to ongoing learning and health care excellence extends beyond our organization. Our clinical, non-clinical and high school internship programs help promote health care careers to a new generation, shape the future workforce and develop future leaders in our community. Opportunities include:
Scripps dedicates our staff, facilities and resources to students required to complete a clinical non-clinical rotation for degree completion. Types of professions include, but are not limited to:
Accounting
Business
Dietitians
Finance
Lab
Marketing
Medical Office
Nursing
Pharmacy
Physical therapy
Respiratory therapy
Clinical and non-clinical rotations and internships
Scripps Health offers college students who need course credit the opportunity to learn about the health care environment as it relates to their academic course objectives. Affiliation Agreements with each school and program are required for student participation.
Requests are placed by the school through the San Diego Nursing Service-Education Consortium. Placements are not confirmed until the request is approved through the consortium.
High School internships
These programs create workplace exposure and learning opportunities for students who have an interest in health care; they integrate health care applications into traditional high school courses.
High School Exploration Program: This 5-week summer program, in partnership with the Health and Science Pipeline Initiative, and Young Leaders in Health Care, places students in a support or administrative setting. Participants must attend a HASPI participating school or YL HC and must complete the application procedure through these groups.
Affiliation agreements
Affiliation agreements with each school and program are required for student participation. You can check whether your school has an affiliation agreement (PDF, 93.9 KB).
For more information about the process visit the San Diego Nursing Service Education Consortium or contact Scripps Student Placements by email at studentplacements@scrippshealth.org.
Volunteers
Volunteers must be active men and women age 15 and older who are willing to make a commitment to volunteering at least three to four hours a week. Scripps volunteers include students, homemakers, part-time workers, retired persons and seniors. Volunteers may have unique opportunities to work in the emergency department, intensive care unit, or surgery. See the Volunteer page for more information about training and requirements.