Community Health Improvement
These activities work to improve community health, and include community health education and prevention services. Such services do not generate patient bills, although they may involve a nominal fee.
In fiscal year 2015, Scripps invested more than $9 million in services aimed at improving community health.
To learn more, view the 2016 Community Benefit Report. (PDF, 6.6 MB)
Scripps has developed a series of prevention and wellness programs designed to educate people about prevention, early detection and treatment. Our programs include:
Cancer care
Heart care
Diabetes
Health behaviors such as flu vaccination and smoking cessation
Substance abuse
Maternal health
Read the following stories to learn more about the steps Scripps is taking to keep the community healthy:
Program Helps Prevent Sudden Cardiac Death in Teens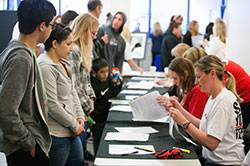 Each year, 7,000 teens lose their lives due to sudden cardiac arrest (SCA). SCA is not a heart attack — it is caused by an abnormality in the heart's electrical system that can easily be detected with a simple EKG. Unfortunately, heart screenings are not a part of a regular, well-child exam or pre-participation sports physical. The first symptom of SCA could be death. San Diego alone loses three to five teens from SCA each year.
As a sponsor of the Eric Paredes Save A Life Foundation for the past two years, Scripps has helped provide more than 10,000, free cardiac screenings to local teens, including the homeless, uninsured and underinsured.
We've discovered more than 100 who were at risk for SCA. Our highly trained team of volunteers, led by Scripps Clinic cardiologist John Rogers, MD, includes doctors, nurses, and EKG and echocardiogram techs from across our system. The screenings are non-invasive and include a health history, EKG, and if indicated — an echocardiogram. Parents are notified of the results for follow-up with their family physician.
The EP Save A Life Foundation was founded by Rhina and Hector Paredes, after their healthy, 15-year-old son Eric passed away from SCA in 2009. Rhina is a registered nurse at Scripps Green Hospital.
The ultimate goals of our partnership with the foundation are to help standardize cardiac screenings among youth; equip schools with readily accessible, automatic external defibrillators; and provide training for students and staff. In addition to participating in these important outreach events, Scripps supported the foundation through a donation in its inaugural year that was used to purchase EKG machines.
"We're having a tremendous response to this program and we're screening more and more teens each year," says Dr. Rogers. "We are extremely proud to partner with the Save A Life Foundation in this vital effort to keep our teens healthy."
Navigating San Diego's Health Care System
More than 20 percent of adult San Diegans struggle to get health care. Scripps partners with the City of San Diego and other government and community leaders on the 2-1-1 Healthcare Navigation Program, which is funded in part with community development block grants provided by the US Department of Housing and Urban Development.
The program provides information and referrals, connecting people to available health services. Healthcare Navigation provides need and eligibility assessments, assistance with medical appointments, and help completing Medi-Cal, Healthy Families and prescription assistance applications.
Planting Seeds to Combat Early Childhood Obesity
Scripps Medical Foundation is joining the fight against childhood obesity through the $25,000 sponsorship of a "Teaching Garden" at Rohr Elementary School in Chula Vista — a school district that has demonstrated significant socioeconomic need.
The three-year Teaching Garden is part of the American Heart Association's national initiative and helps educate children about nutrition and the importance of eating healthy foods.
"Gardening is a fun way to learn about the importance of fruits and vegetables," says Paul Teirstein, MD, chief of cardiology and director of interventional cardiology at Scripps Clinic, and director of the Prebys Cardiovascular Institute.
"The program can help kids learn to make healthy choices, which will benefit them and their families — and we're proud to be a part of it."
The goal is that at the end of the program, the campus garden will be an established, sustainable project that students will continue to learn from, take ownership of and enjoy.
The Scripps sponsorship provides funding for three years of program essentials and activities, including garden beds, organic soil, seedlings and plants, cooking demonstrations, Planting Days and Harvest Days. The program also includes a Teaching Gardens Toolkit, which provides a school garden manual, school engagement ideas, classroom curriculum and community resources for students and families.