Living a Lighter Life After Bariatric Surgery
120 pounds lighter with vertical sleeve gastrectomy (VSG)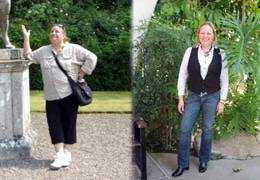 A little more than one year after having bariatric surgery, Terri H. weighs 120 pounds less and has more energy than she's had in decades.
"There are so many things I can do now that I couldn't before," said the 53-year-old married mother from San Diego, Calif. "Before the surgery, I couldn't even clean my house. I paid someone to do it for me. Those days are over."
Determined to get her health back on track, Terri had weight loss surgery through Scripps Green Hospital's Bariatric Surgery Program in December of 2007. She lost 25 pounds on her own before undergoing the procedure, and dropped another 95 after surgery.
"My surgeon was awesome," she said. "And the post-operative care I received was fantastic."
Part of the Scripps Clinic Center for Weight Management, the Bariatric Surgery Program was designated a Center of Excellence by the American Society for Metabolic and Bariatric Surgery. The award indicates a commitment to providing a high level of care and is earned by programs that have the best outcomes in the industry. The program offers several weight loss surgeries, including gastric bypass, gastric banding and vertical sleeve gastrectomy (VSG).
After assessing her health history and goals, Terri and her surgeon, Mark Takata, MD, felt VSG, or "the sleeve," was the best choice for her.
"I am so glad I did it," she asserted. "I truly believe it has added years to my life."
The driving force behind her decision
Terri's decision to undergo weight loss surgery came after decades of roller coaster dieting.
"I have struggled with my weight since I was a teen," said Terri H. "I was on a diet for most of my life, each time losing and then regaining more. I was tired."
The reasons for Terri's fatigue had a lot to do with the 100 extra pounds on her 5 foot 7 inch frame. Her weight exacerbated a host of health problems, which included high blood pressure, sleep apnea, osteoarthritis and fibromyalgia.
"Since I've had the surgery, my blood pressure is now in a great range, my sleep apnea is gone and my joints and feet hurt way less," said Terri. "The fibromyalgia is still there, but it has improved."
Having weight loss surgery was more than a decision to go under the knife. From eating to exercising, Terri focuses on making smart lifestyle decisions that will result in continued success.
"I need to carefully pay attention to my diet and I have to deal with my emotional eating issues as they pop up," she said. "It can be tough. But I go to the program's monthly support groups and that helps."
Once a size 2X, Terri is now wearing 10s and 12s. She's got a new wardrobe for her transformed frame.
"I weigh less than when I got pregnant 25 years ago," said Terri. "So many people in my life have never seen me at a normal weight. Some don't even recognize me until I speak."
At 53, she's enjoying the simple things most people take for granted—one step at a time.
"Recently, I danced at a party. I was certain I would feel it in my feet the next day," she remarked. "I didn't, and I can't tell you how nice it was to be able move without pain. It's amazing."
Please note: Results may vary from person to person.