Do you know the leading cause of death among women?
It's not cancer. It's heart disease.
From the size and structure of their hearts to the causes and treatments of disease, women have very different heart care needs than men.
Men and women do not have the same heart attack symptoms.
Almost half of all women who have heart attacks had none of the typical symptoms that men have, such as pain down the left arm. What's more, 64 percent of women who die suddenly of heart disease have no symptoms. Women tend to have subtler symptoms that may begin up to a month before a heart attack.
Scripps Women's Heart Center offers heart care exclusively for women, by women.
We're dedicated to empowering women to take care of their hearts through education, lifestyle and, when needed, expert medical care. Our female cardiologists are experts in both cardiology and integrative/holistic medicine, and specialize in the diagnosis, treatment and prevention of women's heart disease.
Experiencing heart problems or just concerned about your heart health?
Contact us today and we'll help you find the right specialist for you: 858-381-4463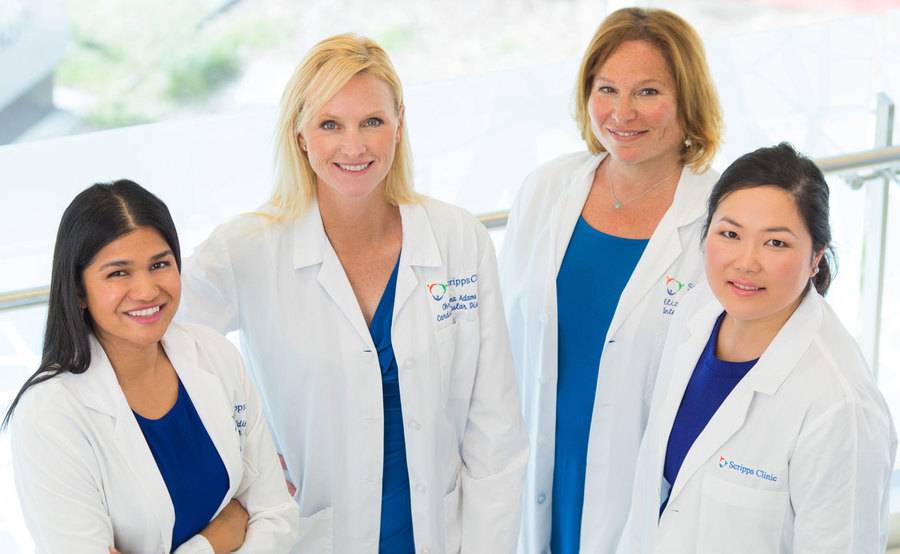 We take women's care to heart. From preventing heart disease to treating heart problems due to cancer or menopause, you can find the care you need at Scripps.
Our cardiologists provide expert, compassionate evaluation and treatment of the conditions that most often affect women's hearts.

The Scripps Women's Heart Center brings together specialists in women's heart disease, the most advanced technology and the nationally recognized expertise of Scripps.
Our female cardiologists are experts in cardiology, integrative medicine, internal medicine, echocardiography and nuclear cardiology, which brings a unique and holistic approach to women's heart care that includes mind, body and spirit.