Heart disease is the #1 cause of death among women
It takes the lives of nearly twice as many women as all forms of cancer combined, yet many women know very little about their heart health.
It's a common misconception that heart disease primarily affects men. While it is true that more men than women die from heart disease, the death rate among men has steadily declined during the past 25 years. Unfortunately, the same cannot be said for women.
Moreover, women age 45 and younger are more likely than men to die within a year of their first heart attack. Among women who die suddenly of coronary heart disease, 64 percent have no prior symptoms.
Symptoms specific to women
Women tend to have subtler symptoms, and they may begin up to a month before the heart attack. Symptoms include:
Fatigue or weakness
Unusual tiredness
Pressure, or tightness in the center of the chest
Pain that spreads to the upper body, neck or jaw
Unusual sweating, nausea or vomiting
Sudden dizziness
Shortness of breath
Problems sleeping
Because many of these symptoms can be associated with common illnesses such as the flu, women are more likely to brush them off or assume something less serious is going on — and that can be a serious or even fatal mistake. If you experience these symptoms, don't ignore them. Play it safe and call 911. The sooner you get treatment, the greater the chances of recovery.
Experiencing heart problems or just concerned about your heart health?
Contact us today and we'll help you find the right specialist for you: 858-771-2599
Scripps Women's Heart Center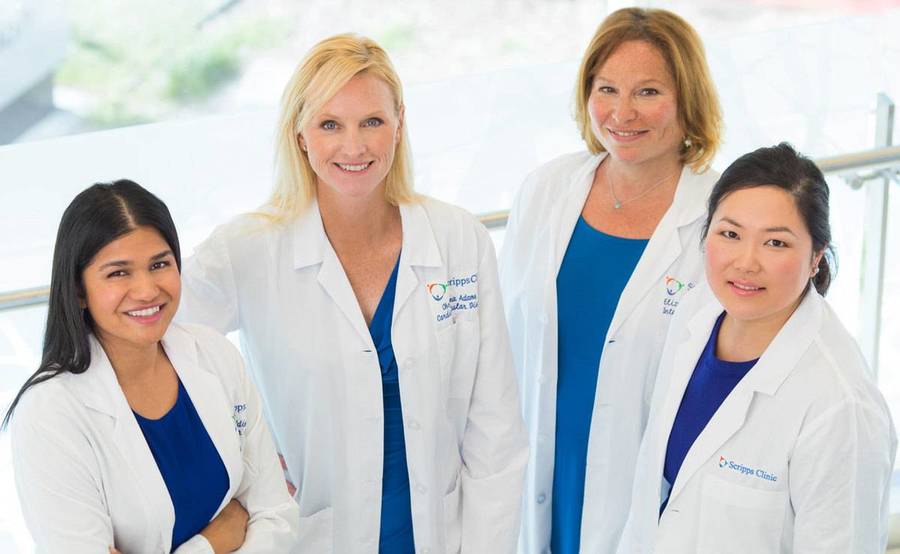 Scripps Women's Heart Center
We take women's care to heart. From preventing heart disease to treating heart problems due to cancer or menopause, you can find the care you need at Scripps.
The Scripps Women's Heart Center brings together specialists in women's heart disease, the most advanced technology and the nationally recognized expertise of Scripps. Our female cardiologists are experts in cardiology, integrative medicine, internal medicine, echocardiography and nuclear cardiology, which brings a unique and holistic approach to women's heart care that includes mind, body and spirit.