Vaccination Super Station volunteer information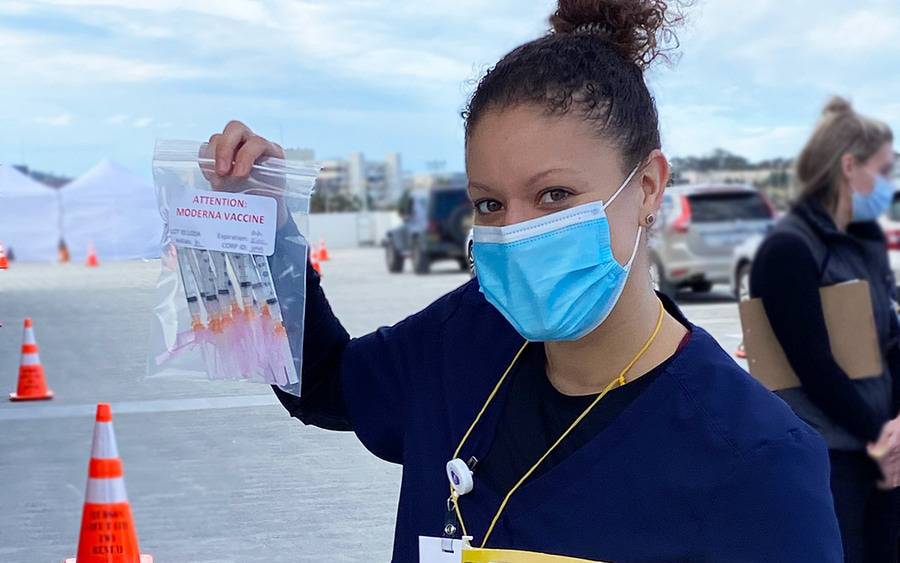 Vaccination Super Station volunteer information
Scripps Health, in partnership with the County of San Diego and the Del Mar Fairgrounds, is proud to operate the Vaccination Super Station at the fairgrounds.
Volunteers are needed to help staff the site in both clinical and non-clinical roles. Vaccine distribution will be based upon available supply. 
Before volunteering, community members must undergo a background check and verification of medical certification, if applicable. This process will be facilitated by Scripps Health after you apply.
Medical professionals (with current licensure or certification) who can perform vaccinations. A complete list of authorized licensees is available on the California Department of Public Health website. Medical students, nursing students, EMTs and pharmacy students will be considered. Pharmacy Technicians are also needed to help draw and distribute vaccines.
Non-medical professionals who can assist with checking in patients, observing patients after they receive the vaccine, helping patients sign up for post-vaccination monitoring, answering general questions, assisting with flow, restocking supplies, and other operational duties.
Shift times will vary, but in general, we will be asking for a 4 1/2-hour commitment per shift. You may also elect to support an 8- or 12-hour shift.
Minimum age to volunteer is 18. 
Community volunteers will be required to apply and select dates you wish to support the vaccine clinic.
Once your application has undergone a background check and verification of medical certification and you have been approved you will receive a confirmation email.
If for any reason you cannot volunteer that day, please contact us as soon as possible. Our goal is to vaccinate our community and every role is imperative to meeting that goal. We are depending on you fulfilling your commitment to volunteer in order meet this commitment to serve our community. 
Please be patient if you don't hear from us right away. We will be reviewing applications based on the roles we need to fill. Licensed medical professionals are especially needed.
If you are approved to volunteer but are not assigned a shift, please consider signing up for another shift by completing the application above. We are ramping up and will need additional volunteers in the near future.
Unfortunately, we are not able to offer vaccines to volunteers at this time.  
Please read through our FAQs for community volunteers

(PDF, 110 KB)

for more information.
Scripps would like to express its appreciation for all those offering to volunteer. Please be patient if you don't hear from us right away. Applications will be reviewed based on the roles we need to fill. We greatly appreciate the generous outpouring of community volunteers, which has allowed us to increase our ability to provide vaccines. As we offer more and more vaccines to our community, our hours of operations will be expanded, as will our need for additional volunteers. We are selecting volunteers based on times you make yourself available and the hours the clinic is open. For those of you who have not been confirmed for a volunteer shift, we appreciate your patience as we ramp up our expanded capacity. 
Volunteer education and resources