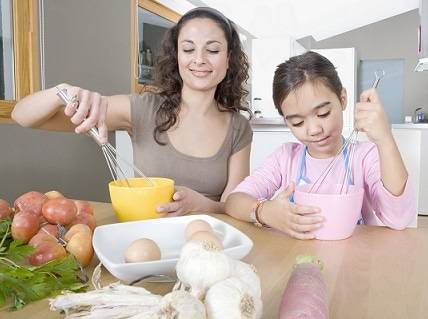 Join us for a fun, interactive series of free cooking classes for parents and caregivers who want to learn simple and healthy recipes for the whole family. All classes are taught in English and Spanish. Sign up for one class or all five.
Classes are free to attend. Space is limited. Registration is required.
To register for one or all five classes, please call 619-321-2920 or register online here.
Event details

| Date | Time | Fee |
| --- | --- | --- |
| Tue, Mar 4th, 2014 - Tue, Apr 1st, 2014 | 4:30 pm - 6 pm | Free |
Dates

| Date | Time |
| --- | --- |
| Tuesday, March 4th, 2014 | 4:30 pm - 6 pm |
| Tuesday, March 11th, 2014 | 4:30 pm - 6 pm |
| Tuesday, March 18th, 2014 | 4:30 pm - 6 pm |
| Tuesday, March 25th, 2014 | 4:30 pm - 6 pm |
| Tuesday, April 1st, 2014 | 4:30 pm - 6 pm |