Celebrate the Holiday Season with a Special Tribute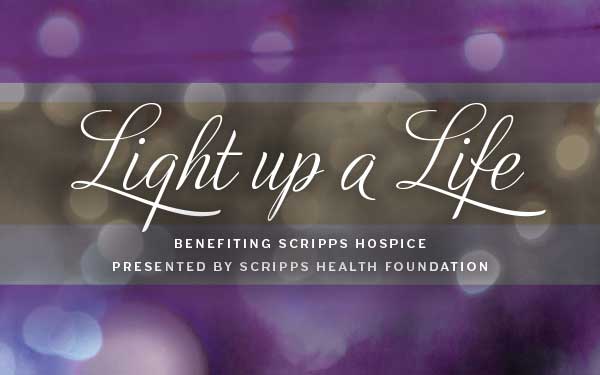 Celebrate the Holiday Season with a Special Tribute
Light Up a Life is a free, life-affirming community event to honor loved ones who have received hospice care or may currently be under hospice care. Renew this fine tradition and share in our special celebration that illuminates hearts with cherished thoughts and memories.
Each light and photo tribute purchased at the event signifies a gift of $100 or more to benefit Scripps Hospice, which provides comprehensive care to patients with a serious, life-limiting illness, and emotional, social and spiritual support for their family members.
Your support will help provide the resources needed to continue our work and ensure that we are always there for these individuals during some of the most difficult times of their lives. Financial support makes you a partner in relieving pain and suffering for thousands of patients and their loved ones who count on Scripps Hospice to help them through serious illness or end of life.
Space is limited. Please RSVP by Friday, December 5, 2014.
Event details

| Date | Time |
| --- | --- |
| Wed, Dec 10th, 2014 - Wed, Dec 10th, 2014 | 3:30 pm - 5 pm |