Introducing Your Child and Your New Baby (Encinitas)
How parents can smooth the transition into becoming a big brother or sister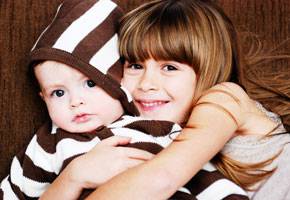 How parents can smooth the transition into becoming a big brother or sister
Congratulations on the addition to your family! This is an exciting time for you as a parent and for your child as they become a sibling.
This class is designed for children 3.5 – 6 years of age and their parents to help prepare the entire family for the new baby. Children will have an opportunity to learn about their new role, through 'hands-on' and circle-time activities. 
Topics include:
Being a helper
Safe toys 
Newborn appearance and behavior
Life with baby
Expectations: Smiling, loving, feeding, crying
Feelings: Recognizing common thoughts about being a sibling
Safety: Touching and holding the baby
Pre-registration allows us to reserve your space and contact you in the event of a change in the time or location of a class or on the rare occasion that we have a class cancellation.
Please remember, we cannot guarantee accommodation for walk-in participation at our classes, screenings and programs and cannot be responsible for any inconvenience due to lack of registration.
Event details
Date and time
Sat, Jun 03, 2017
1 pm - 2:30 pm