Restorative Yoga Sound Bath
Experience peace and tranquility through movement and sound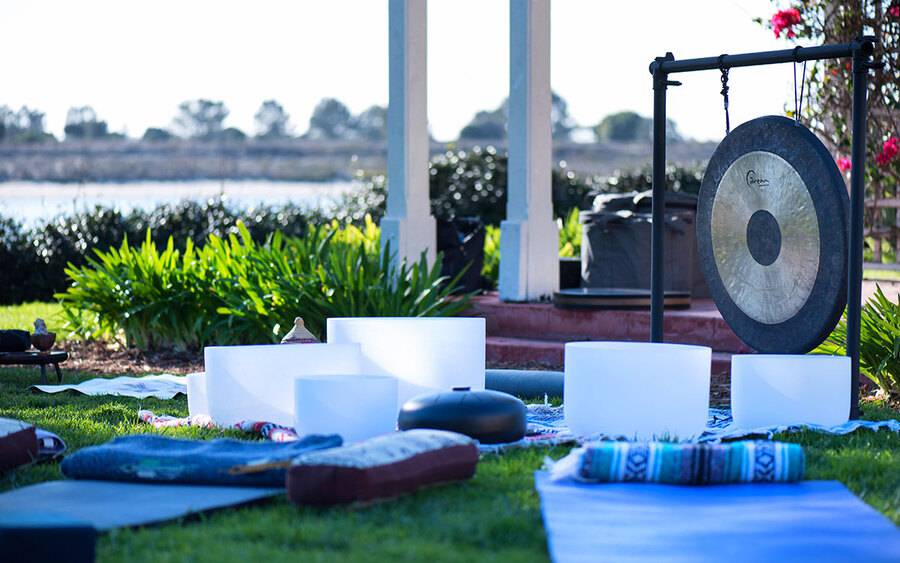 Experience peace and tranquility through movement and sound
This Restorative Yoga Sound Bath is an opportunity to disconnect from the frenetic activity of daily life.
Whether you are brand new to Restorative Yoga and Sound Healing, or you are a seasoned practitioner of both, this offering is the perfect place to begin or deepen your journey into the transformative world of shape and sound. Restorative Yoga focuses on relaxation and restoration — experiencing tranquility and peace through healing and nurturing postures.
Composed of all seated or reclined postures that are held two to seven minutes each, this class will challenge the mind to remain present while physically and mentally releasing tension.
Each restorative shape is complimented by soothing instruments: crystal and brass singing bowls, gongs, drums, chimes and an extended-savasana sound bath.
Join certified yoga instructor Jeny Dawson and certified sound healing instructor Mark Carter for this special class.
Yoga therapeutic benefits
Restores equilibrium and cultivates balance
Reduces stress and anxiety
Increases immune health
Encourages a sense of calm bringing harmony between body, mind and spirit
Lowers heart rate and blood pressure
Moves the brain to deep states of relaxation
The cost is $35 for members of the Scripps Center for Integrative Medicine, and $40 for general admission.
Event details
Location
Shiley Sports and Fitness Center

Yoga Room
10820 N. Torrey Pines Rd.

La Jolla

,

CA

92037

Get directions
Date and time
Sat, Mar 28th, 2020
11 am - 1 pm