Clinical and research training in gastroenterology and hepatology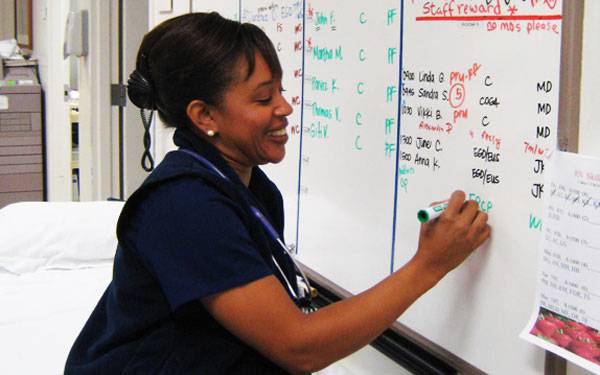 Clinical and research training in gastroenterology and hepatology
The Scripps Clinic and Scripps Green Hospital Gastroenterology and Hepatology Fellowship Program started in 1959 and is the oldest in San Diego. It is a three-year ACGME-accredited training program, designed to provide clinical expertise in gastroenterology and hepatology. The curriculum is structured to provide the full spectrum of educational experiences. After completing the program, fellows are fully prepared for board certification in both gastroenterology and transplant hepatology.
Inpatient, outpatient and elective rotations
During rotations, fellows interpret radiographic examinations; evaluate the histopathology of digestive diseases; practice multiple biopsy techniques; and gain expertise in various colonoscopy, sigmoidoscopy, esophagogastroduodenoscopy (EGD), endoscopic retrograde cholangiopancreatography (ERCP), and endoscopic ultrasound (EUS).
The fellowship includes inpatient and outpatient rotations at Scripps Mercy Hospital and structured didactic teaching in pathology, radiology and nutrition. Motility is taught at University of California, San Diego.
Elective rotations are available at University of California, San Diego, Naval Medical Center San Diego, Kaiser Permanente San Diego and Rady Children's Hospital (pediatric gastroenterology). In their second- and third-years, fellows have opportunities to complete electives at other national and international institutions. Fellows can also earn a master's degree in Clinical and Translational Investigation at The Scripps Research Institute during an elective fourth year.
First-, second- and third-year rotations may vary based on fellow preferences, and could include:
Advanced endoscopy
Inflammatory bowel disease (IBD)
Inpatient GI
Inpatient liver
Motility
Outpatient GI/research
Outpatient liver/transplant
Scripps Mercy Hospital GI
Surgery, radiology, nutrition and pathology
Elective (available in the second- and third-year)
Learn more
The Scripps liver transplantation program evaluates and cares for many people with liver disease, including patients from Kaiser Permanente and Naval Medical Center San Diego. Our hepatitis study group is one of the largest referral centers for chronic viral hepatitis treatment in the United States. We collaborate with The Scripps Research Institute and many other centers around the country. Our members present and publish research regularly and lecture nationally and internationally. Our Division sponsors CME conferences in hepatology and inflammatory bowel disease each year. We also have a pancreatic and biliary cancer group that participates in clinical trials and coordinates care for hundreds of patients.
Gastroenterology and oncology
At Scripps we have been treating a wide variety of gastrointestinal malignancies. Our Esophageal Center is a site of excellence with a unique focus on Barrett's and early esophageal cancer providing ablative services by radiofrequency ablation and cryoablation. We have created a large multi-disciplinary pancreaticobiliary cancer team that participates in the national PanCan network. This team of gastroenterologists, oncologists, and surgeons provides state-of-the-art endoscopic and oncologic treatment of pancreatic and biliary cancers. We have access to multiple leading-edge protocols and are having great success in treating our patients. We have expanded our treatment of liver cancers providing resection, transplant and advanced radiation treatment to our patients. Our colorectal service provides state-of-the-art care from endoscopic diagnosis and treatment to surgical resection using minimally invasive techniques.
We provide a multi-disciplinary team approach to treatment of all our patients with pre-malignant and malignant GI conditions. Our outcomes are superb and we continue to do translational and clinical research to improve outcomes with all our patients. We work in collaboration with the Scripps Translational Science Institute and The Scripps Research Institute.
Fellows have many opportunities to participate in ongoing research projects. All trainees must develop their own research project and are expected to publish in a peer-reviewed journal. Fellows are encouraged to participate in local, regional and national professional organizations. Many trainees have presented abstracts that have been honored at the national level. The Division is active in clinical research in viral hepatitis diagnosis and treatment, cirrhosis and cholestatic diseases liver (PBC, PSC), colon cancer detection, organ transplantation, circulating tumor cells in pancreatic cancer, hepatocellar carcinoma, therapeutic procedures in Barrett's esophagus, including radiofrequency ablation, cryoablation and endoscopic mucosal resection, and inflammatory bowel disease, including Crohn's disease and ulcerative colitis.
The Division of Gastroenterology and Hepatology is exceptionally busy. During an average year, the Division performs approximately:
6,000 colonoscopies (33% polypectomies)
2,000 esophagogastroduodenoscopies (EGDs)
300 endoscopic ultrasounds
250 ERCPs
100 liver biopsies
The advanced endoscopy group performs more than 600 procedures each year, including:
Anorectal motility testing
ERCPs
Endoscopic ultrasonography (EUS) with fine-needle aspiration
Esophageal motility testing
Single-balloon enteroscopy
Choledochoscopy (Spyglass)
Capsule endoscopy
Radiofrequency
Cryotherapy ablation for Barrett's esophagus
EUS guided fiducial placement
Enteral stenting techniques
Fellows have the opportunity to gain experience in these procedures as early as their second year.