Kidney transplant fellowship at Scripps Health in San Diego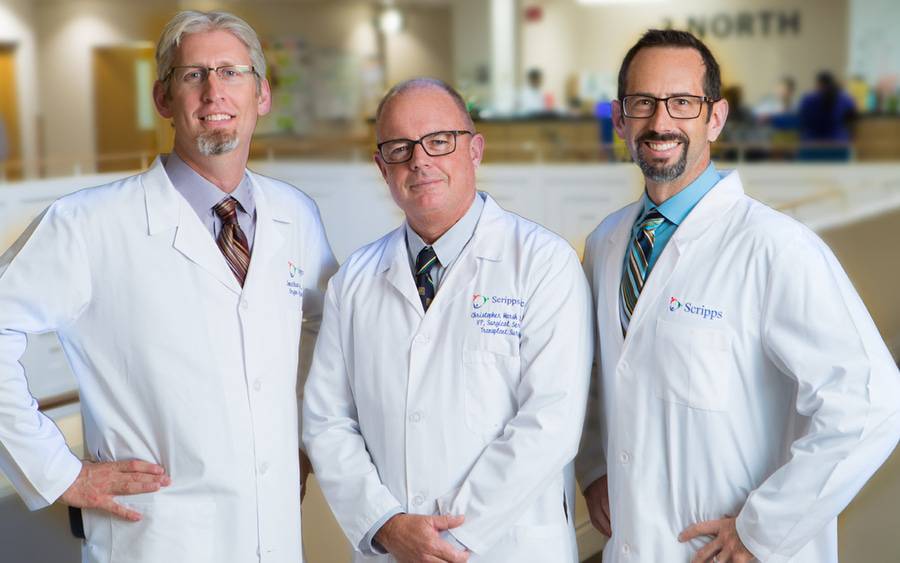 Kidney transplant fellowship at Scripps Health in San Diego
The Scripps Center for Organ Transplant Program at Scripps Green Hospital/Scripps Clinic has an approved two-year American Society of Transplant Surgeons (ASTS) fellowship in kidney transplantation. In addition to kidney transplantation, the fellowship will include participation in liver and pancreas transplantation and hepatobiliary surgery.
Candidates should be a graduate fully trained in General Surgery or Urology (American Board certified or eligible).
Annually, the program transplants over 100 organs with an average of 70 kidney transplants per year and an active hepatobiliary service. 
The fellowship will include participation in multiorgan procurements; liver, kidney and pancreas transplantation; and hepatobiliary surgery.
The fellowship is a combined research and clinical program with a Scripps fellowship in clinical translational investigation sponsored by the Scripps Translational Science Institute (STSI) created by the National Institute of Health and a clinical translational science award (CTSA).
Courses include clinical investigation, bio-statistics, human genetics and genomics, molecular medicine and applied bioinformatics.
Message from the director
Hear directly from the fellowship program director and division leader Christopher Marsh, MD, and his colleagues about what to expect from this two-year program in Southern California. 
Training sites, rotations and lectures
The fellowship program is designed to focus on advanced training in the hospital setting to help fellows prepare for future practice.
Under the supervision of an attending physician, fellows provide inpatient consulting services for transplantation and surgical cases at Scripps Green Hospital. 
The fellowship is based at Scripps Clinic Torrey Pines and Scripps Green Hospital. Each Scripps Clinic facility shares a common electronic health record (AEHR) that interfaces with the electronic medical records (EMR) at all Scripps hospitals, the picture archiving and communication system (PACS), the health information exchange (HIE) and the MyScripps patient portal.
All care is at Scripps Green Hospital and Scripps Clinic, and there are no rotations. A Navy general surgery resident is on the service, for which you will participate in teaching and sharing hospital care, clinic care and surgical cases.
The educational curriculum is the ASTS fellow educational courses, with the addition of the STSI clinical translational research core curriculum. This curriculum involves the following:
Clinical investigation
Biostatistics
Human genetics and genomics
Molecular medicine
Applied bioinformatics
Educational and lecture series 
Monthly morbidity and mortality conferences 
Weekly transplant pathology conferences
Weekly liver and kidney transplant selection conferences
Weekly hepatocellular cancer conferences
Kidney transplant fellowship clinical faculty members bring a breadth of knowledge to the fellowship program and enjoy sharing their years of experience with each of our fellows.
Christopher L. Marsh, MD — Program Director and Division Head
Jonathan Fisher, MD, transplant surgeon
Randolph Schaffer, MD, transplant surgeon
Sunil Kurian, PhD, research scientist
Laura Nicholson, MD, PhD, Scripps research
Plus, a diverse group of hepatologists, nephrologists and pathologists
Scripps Clinic has a rich history in clinical research, ranging from basic science to clinical trials. Fellows in the ASTS program are expected to participate in research projects and contribute to medical literature.
Fellows at Scripps Health receive a standardized compensation package that includes a base salary, health insurance benefits, an educational allowance, paid vacation days, paid sick days and other benefits.
Scripps Clinic/Green Hospital fellowship pay and benefits:
1st year - $69,436.55
2nd year - $73,015.43
Insurance, leave and other benefits
Insurance
Health and dental insurance plans are available for fellows and their dependents for a minimal cost. Fellows may participate in the Scripps Wellness program to reduce their health care premiums. Confidential counseling and psychological support services are available on request.
Life insurance coverage, up to $1,000,000, is available for fellows and their dependents.
Long-term disability insurance, at Scripps rates, is available for purchase. State Disability Insurance is paid by the fellow. The State of California requires this contribution.
Fellows are covered by malpractice insurance while performing services within the scope of their training at Scripps Clinic. The liability limit is $5,000,000 per claim/$5,000,000 annually. Tail coverage is provided.
Vacations and leave
Fellows receive 20 vacation days annually. Six paid sick days are allotted annually. Parental and other leaves of absence follow Scripps policy and California State Law. Substantial absences may necessitate additional rotations to complete training.
Other benefits
Lab coats and scrubs are provided and laundered by Scripps.
Paid parking in the adjacent gated and covered structure is provided at no cost.
A full-service cafeteria is located in the hospital.
Call rooms are provided.
Educational expenses
Scripps provides an educational expense allowance annually to each fellow for professional meetings and conferences, books and journals, professional dues and other educational expenses.
Apply for a Scripps Clinic/Scripps Green fellowship program.
Apply to the organ transplantation fellowship
Applicants must be surgical and urology residents who have trained at an American ACGME-accredited program.
All licenses, ECFMG certification, and professional certifications are the applicant's responsibility.
Scripps Clinic does not operate its own J-1 or H-1 visa program.
Each fellow must have a Post Graduate Training license or unrestricted California Medical license which will allow you to train in the State of California within 90 days of completing 36 months completion of Board approved training.