Scripps Mercy Family Medicine Residency inpatient rotations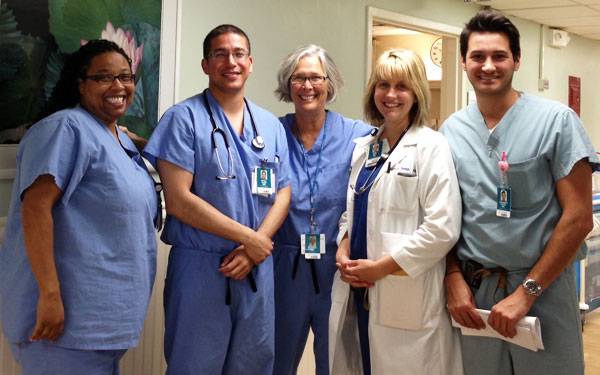 Scripps Mercy Family Medicine Residency inpatient rotations
The inpatient family medicine service at Scripps Mercy Hospital Chula Vista is busy and provides excellent clinical learning opportunities.
As the only residents at Scripps Mercy Chula Vista, the family medicine residents are involved in all areas of the hospital, including the ICU and emergency department, and participate in the cath lab and operating rooms. Our residents cover the 24-hour care of all our patients. A typical team consists of two interns and a senior resident, with supervision by one of our family medicine attendings. Night float coverage is typically an intern with a senior resident.
Clinical experiences are enhanced with structured teaching activities that include daily rounds with the attending physician and lunchtime inpatient conferences that broaden the educational experience in specialty topics, such as cardiology, surgery, obstetrics and pediatrics. Radiology and pathology rounds are incorporated into the weekly inpatient activities. In addition, a clinical pharmacist joins the teaching rounds once a week.
The program's busy obstetrics service is run by the residents and is staffed by the family medicine attendings. Residents also work with obstetricians staffed by San Ysidro Health Centers and private attendings to care for the patients. This includes daily rounding on postpartum mothers and infants, triaging pregnant patients, admitting, delivering, including instrument-assisted deliveries, peripartum procedures and first-assist on surgical caesareans.
The residents also rotate at Scripps Mercy Hospital San Diego, located near the heart of downtown San Diego. This gives interns an opportunity to help a different patient population while working alongside internal medicine teams within our sister residency program.
Family medicine residents rotate with Rady's Children's Hospital with its inpatient pediatrics teams, with visiting residents from UCSD, Scripps Mercy, and Naval Medical Center. Rady's catchment area includes all of San Diego, Mexico, Orange County, southern Texas, Nevada and Arizona, which provides for a large number of patients and pathologies.