Scripps Mercy Family Medicine outpatient rotations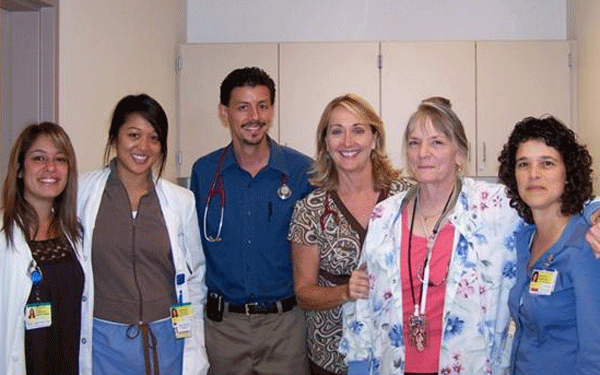 Scripps Mercy Family Medicine outpatient rotations
At our continuity clinic at the Chula Vista Medical Plaza, you will work closely with the medical plaza's staff in a team-based setting. The residency program also works closely with the San Ysidro Health Center using the Patient Centered Medical Home care model, which includes team-based care with a focus on quality improvement. Residents follow their own continuity patients (of all ages) through the life cycle.
We are fortunate to have a behavioral health department in our clinic to assist with the mental health needs our patients, as well as a pediatric dentistry department, radiology suite, full laboratory, an urgent care clinic and a visiting ophthalmologist.
Our clinic also features communal workspaces and group visit rooms that we use for Centering Pregnancy group prenatal visits, and Healthy Aging geriatric group visits.
Ambulatory experiences include Women's Health where we perform colposcopies, endometrial biopsies, Nexplanons and IUD placements. We have procedural clinics and sports medicine clinics at the Chula Vista Medical Plaza. We're also been involved in the development of three high-school based clinic sites, where we offer longitudinal, hands-on experiences with adolescents in their school environment.
Outpatient rotations include:
Pediatrics
Surgery
Behavioral medicine
Sports medicine
Gynecology
Other subspecialty rotations.
Longitudinal experiences include family medicine didactics, behavioral science conference, community-oriented primary care research project, inpatient teaching conferences, sports medicine conferences and skilled nursing home care.
Elective time is available in the second and third year for unique opportunities to rotate with subspecialists in inpatient or outpatient settings, or internationally.