Family Medicine Residency clinical sites offer diversity
Our proximity to the US-Mexico border provides residents a unique opportunity to take health care beyond the walls of the traditional hospital or clinic setting.
Through our partnership with the Chula Vista Medical Plaza, San Ysidro Health Center and local school districts, community experiences are included in rotations throughout the residency curriculum.
Teaching sites include the following:
Scripps Mercy Hospital Chula Vista
Established in 1964, Scripps Mercy Hospital Chula Vista joined the Scripps system in 1986 and is growing today in parallel with the community it serves. The hospital has 173 acute-care licensed beds and more than 700 employees. It is one of the closest hospitals—if not the closest in the nation—to the Mexican border.
The hospital has an open ICU, allowing the family medicine team to care for floor and ICU patients simultaneously. As one of only two hospitals in the South Bay region with a labor and delivery ward, it handles a high volume of deliveries. Residents work closely with specialists and have the opportunity to participate in many different inpatient procedures and surgeries.
Chula Vista Medical Plaza
The Chula Vista Medical Plaza guarantees a unique, patient-centered experience focusing on healing, preventative care and serving as our patients' permanent medical home, as well as our residents' continuity clinic. The facility has been designed around the concepts of The Patient Centered Medical Home (PCMH) model of care — the patient, not the support staff or provider, is the focus of all care and services.
Within the building's spacious, three-story layout are specialized service pods with well-planned and designed 60 medical exam rooms, 10 fully-equipped state-of-the-art dental operatories, a behavioral suite, a full-service diagnostic laboratory, as well as a new radiology department featuring the latest advances in digital x-ray technology, health education/promotion services and social and support services.
Scripps Mercy Hospital San Diego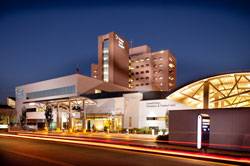 Established in 1890 by the Sisters of Mercy, Scripps Mercy Hospital San Diego is located in the Hillcrest neighborhood of San Diego. Rotations include internal medicine and special care nursery (Level II NICU). Family medicine residents work alongside Scripps Mercy internal medicine residents during their inpatient ward months.
A pediatric tertiary care center, Rady Children's Hospital serves San Diego and Imperial Valley. Residents provide care here during inpatient pediatrics and pediatric emergency room rotations, working alongside residents from UCSD and other training programs.
The Scripps residency program staffs three high school clinics: Southwest High School, Hoover High School and Palomar Palomar High School. Family Medicine residents work in a collaborative team with school nurses, social work students and nurse practitioners to provide medical care and behavioral health services. Our family medicine residents are excellent role models and can serve as mentors for future health care professionals from underserved communities.
The Scripps Family Medicine residency program works closely with the San Diego Border Area Health Education Center (AHEC) to provide mentoring experiences at four high schools in the Central and South regions of San Diego County, including City Heights (CAE BHC) and Chula Vista (Promise Neighborhood).
San Ysidro Health Center and Clinics
The San Ysidro Health Center (SYHC) began operating out of a small house in 1969 as an outreach effort of the UCSD School of Medicine. It now encompasses multiple health services and satellite clinics that are subsidiaries of SYHC, including the Chula Vista Medical Plaza, Maternal Child Health Center, San Ysidro Mental Health, National City Family Clinic, Otay Family Health Center, Comprehensive Health Center, Paradise Hills Family Clinic and more.
SYHC is a federally-designated community health center (FQHC) and is governed by a community-based board of directors representing the ethnically diverse population it serves. Many of its clinics and services are very close to the Mexican border—some with views of the hills of Tijuana—allowing residents to experience and become experts in border medicine.