Scripps Mercy Hospital Internal Medicine Residency program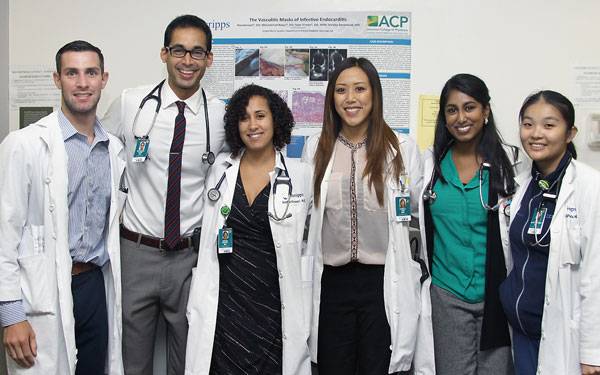 Scripps Mercy Hospital Internal Medicine Residency program
The internal medicine residency program at Scripps Mercy Hospital San Diego balances service with education and provides a friendly, supportive environment for physicians.
Residents have an opportunity to provide care at several teaching sites—all of which serve diverse patient populations.
Collaborative work environment
The program's small size provides ample opportunities for residents to interact with faculty, conduct clinical research and develop a close-knit community with fellow physicians in training.
All first-, second-, and third-year internal medicine residents interact daily with 18 transitional year interns, who have matched in anesthesiology, radiology, radiation oncology, ophthalmology or dermatology. These interns come to Scripps Mercy for broad medical training before entering specialty residencies. They also interact with nine podiatry residents and three pharmacy residents at Scripps Mercy.
Hands-on clinical experience
One of many unique features of Scripps Mercy's internal medicine program is that almost all of our residents will become certified in many classical internal medicine procedures by graduation.
Medical intensive care unit rotations provide multiple opportunities to intubate and place central lines and arterial lines.
On the wards and subspecialty rotations, residents regularly perform lumbar punctures, thoracentesis, paracentesis and bone marrow examinations.
Residents on subspecialty electives often work directly with the subspecialty attending, performing procedures and consultations.
Scripps Mercy faculty and residents develop and implement resident-driven clinical guidelines and clinical performance improvement projects.
Scripps Mercy San Diego and its residents also help train MS-3 and MS-4 students from UC San Diego and other medical schools on some inpatient and outpatient rotations, so residents gain experience teaching medicine as well as learning it.
Extensive training in performing and interpreting portable, bedside ultrasonography as part of the cardiovascular limited ultrasound examination.
Advanced subspecialty procedures such as intravascular ultrasound (IVUS), endobronchial ultrasound, GI endoscopic ultrasound and push enteroscopy.
First place in the 2012 Southern California ACP Clinical Vignette and Research Competition
First place in the Southern California Region III ACP Associates Innovative Research Competition
One of the original 18 (and current) ACGME Educational Innovation Program participants