Scripps Mercy Hospital Residency program research projects, presentations and publications
Scripps Mercy Hospital Residency program research projects, presentations and publications
Residents at Scripps Mercy Hospital have the opportunity to participate in ongoing research opportunities within the institution. Members of the hospital's clinical faculty/medical staff are involved in dozens of Institutional Review Board-approved research projects.
In addition, some of the Mercy internal medicine and transitional residents attain research opportunities at nearby research institutions such as The Scripps Research Institute and University of California, San Diego.
Significant publications and national presentations (PDF, 960 KB) have resulted from these scholarly endeavors. In fact, our internal medicine residents were first place winners for the Southern California ACP Clinical Vignette and Research Competition in 2012.
A Scripps Mercy resident also won first place in the 2015 Southern California ACP Associates Innovative Research Competition.
Recent research opportunities focus on the following:
Cardiovascular limited ultrasound examination (CLUE) using pocket-sized ultrasound
Cost-effective medicine
Clinical trials of new cancer agents
Recognizing emerging complications of new cancer agents
Team training to enhance communication with families of patients in the ICU
Palliative care
Methamphetamine-induced cardiomyopathy multiple infectious disease topics
Geller research competition
In May of each year, the Annual Jack and Sue Geller Research Award Conference allows residents an opportunity to submit entries to the following categories:
Grand Rounds presentations of case reports or original research
Poster presentations of case reports
Original research
Medical arts (e.g., music, paintings and poetry)
Culinary arts
Prizes are awarded to the winners in each category.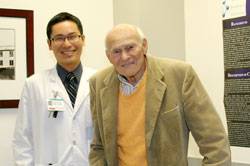 This competition is named in honor of Jack Geller, MD, former director of the Mercy Internal Medicine Residency program (pictured on the right with Mike Chen, MD) and his wife, Sue, who is a professional artist. The award represents Dr. Geller's warmth, enthusiasm, generosity and humility, and years of dedication to research and teaching combined with his wife's interest in all art forms.