Scripps Mercy Hospital San Diego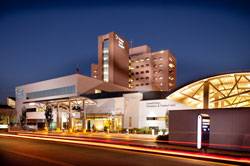 Established in 1890 by the Sisters of Mercy, Scripps Mercy Hospital is the oldest hospital in San Diego County. Located minutes from downtown San Diego, the facility provides care to people from diverse socioeconomic backgrounds and maintains a commitment to excellence.
Scripps Mercy has won numerous national awards and recognition for quality care and workforce satisfaction. A Level I Trauma Center, the San Diego campus has a busy emergency department, a certified STEMI Center and a certified Stroke Center.
Mercy's hospitalists and subspecialists are qualified to perform advanced tertiary procedures. In fact, the tertiary care ICU is one of the busiest and highest acuity ICUs in the county. The hospital also has a well-established pain and palliative care program.
Scripps Mercy Clinic provides learning and practice opportunities for physicians in training at Scripps Mercy Hospital. Since 1961, the facility has provided health care to the working and disabled poor—all while serving as an exceptional outpatient environment to help residents hone their skills and learn new ways to provide effective and efficient primary care and subspecialty care to adults with complex medical illnesses.
At the Clinic, didactics and case-based learning is provided in multiple areas of outpatient internal medicine, including preventive care, outpatient procedures and in-depth preoperative assessments. Also found here are outpatient subspecialty clinics in gastroenterology, endocrinology and metabolism, pulmonology, neurology, rheumatology, cardiology and nephrology.
The Mercy Clinic staff of nurses and other personnel work hand-in-hand with faculty, residents and specialists from the medical staff at Scripps Mercy Hospital. Over time, the residents are able to develop a significant amount of autonomy in providing care—with faculty assistance whenever needed or desired.
San Ysidro Maternal and Child Health Center
Each internal medicine resident will have a two-week gynecology rotation at the San Ysidro Health Centers in the South Bay.
Residents will work directly with a senior gynecologist to gain an understanding of the pathophysiology, diagnosis and management of common gynecologic disease and conditions. The residents will get an opportunity to practice routine gynecological care, and learning how to do the following:
Taking appropriate and sensitive medical, menstrual, sexual, surgical and medication history
Performing sensitive and comfortable breast and pelvic exams
Conducting evidence-based screening for cervical cancer and managing abnormal pap smears
Residents will assess the need for diagnostic testing and procedures, such as endometrial biopsies, pelvic ultrasounds, colposcopies, vulvar biopsies, IUD insertions and endometrial ablations. If interested, they will have an opportunity to perform appropriate procedures under supervision.
Naval Regional Medical Center San Diego
Each internal medicine resident will have a two-week adolescent medicine rotation at the Naval Regional Medical Center where they will work directly with one of the adolescent medicine specialists who cares for teens and young adults.
Residents will be introduced to adolescent growth and development, emphasizing normal physical and psychological changes of puberty, as well as an understanding of common disorders of adolescents, including growth deviations (obesity, delayed puberty, short stature, etc.), school underachievement and common behavioral problems.
Residents will also expand their knowledge of adolescent sexuality, including sexual attitudes, contraception and sexually transmitted disease. They will get experience performing pelvic examinations and taking accurate adolescent history and physical, including the use of growth grids, pubertal rating (Tanner Staging).