Scripps Mercy Pharmacy Resident Locations
The Scripps Mercy Hospital Pharmacy Residency Program is uniquely situated in a variety of acute care settings, exposing residents to the highest quality learning experience possible.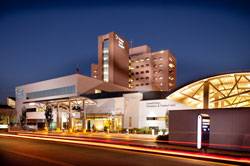 Scripps Mercy Hospital is the oldest and largest teaching hospital in the San Diego area. It has two campuses: San Diego and Chula Vista. The pharmacy residency program resides on the San Diego campus — which is the primary site for the clinical education of more than 70 medical residents, as well as medical students, other health professionals and fellows. Scripps Mercy Hospital provides essential backup and specialized support for other hospitals by offering regional tertiary care services and is a designated Level I Trauma Center. The pharmacy department is open 24/7 and includes a central pharmacy along with nine inpatient satellite locations, which provides pharmacy residents with a broad range of learning experiences.
Scripps Mercy Clinic provides learning and practice opportunities for pharmacists in training at Scripps Mercy Hospital. Many of the patients it serves are working and disabled poor who need chronic disease management and specialty medical care. Pharmacy residents work collaboratively with faculty, medical residents and clinical staff to ensure patients receive the appropriate medications and know how to take them safely.