Pay and benefits for Scripps Mercy Pharmacy residents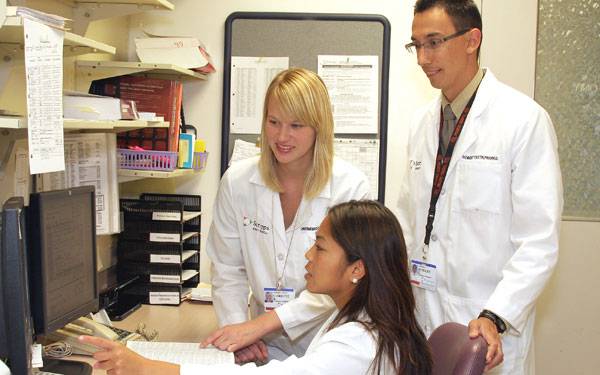 Pay and benefits for Scripps Mercy Pharmacy residents
The terms and conditions of resident training and employment are specified in the employment agreement that also includes training obligations, stipend and benefit provisions. The Residency Manual fully describes policies, practices and procedures. Copies of the employment agreement, yearly rotation schedule, and other pertinent information about the residency program is provided at the time of the interview.
The annual stipend and specific benefits listed in the employment agreement and discussed in the Residency Manual are summarized below.
PGY-1 pharmacy resident: $48,000
PGY-2 pharmacy resident: $52,000
All members of the resident staff are offered health insurance benefits for themselves and eligible dependents at a minimal cost. Medical coverage includes vision, prescription and chiropractic/acupuncture plans.
Dental plan with network and out-of-network coverage options. Eligible dependents can also be covered at a minimal cost.
Multiple levels of employee life insurance are available, including accidental death and dismemberment (AD&D) coverage. You may purchase supplemental, spousal or dependent life insurance at various levels. Long-term disability insurance is available at an additional cost. State disability insurance is paid by the resident (the state of California requires this contribution, which provides income insurance for disability due to non-job-related injury or illness).
Employee Assistance Program (EAP)
Confidential, free, short-term professional counseling is available for employees and family members for issues impacting work or personal life.
Pharmacy residents receive three weeks of paid vacation per academic year.
Lunch is provided Monday through Friday at the Noon Medical Conferences. Pharmacy residents have access to the physician's lounge and food is free of charge.
Parking is provided free of charge in Scripps Mercy Hospital's parking structure.
Funds are available for books, conferences and conference attendance.
Residents have the opportunity to attend:
A California Society of Health-System Pharmacists (CSHP) Seminar - PGY-1
The American Society of Health-System Pharmacists (ASHP) Mid-Year Clinical Meeting - PGY-1 and PGY-2
The Western States Residency Conference - PGY-1
College of Psychiatric and Neurological Pharmacists (CPNP) - PGY-2 Psychiatry
Society of Critical Care Medicine (SCCM) - PGY-2 Critical Care
Other conferences as deemed appropriate
Pharmacy residents are also entitled to the following benefits:
Entertainment discounts
Gym membership discounts
Childcare discounts
Access to the Wellness Program
Scripps Passport entertainment discount card