Scripps Mercy Transitional Year clinical locations
Transitional Year residents participate in training at Scripps Mercy Hospital San Diego and Scripps Mercy Clinic.
Scripps Mercy Hospital San Diego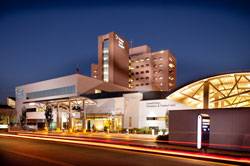 Scripps Mercy is San Diego's premier metropolitan medical center and teaching facility. Since Scripps Mercy provides care to people from diverse socioeconomic backgrounds and offers a variety of medical services, it's an excellent training ground for residents.
The transitional residency program provides a wide breadth of training in internal medicine and pediatric medicine to serve as a foundation for subspecialties such as ophthalmology, radiology, dermatology, radiation oncology, neurology, emergency medicine and more.
Scripps Mercy Clinic has been providing outpatient primary and specialty care to patients in San Diego since 1961. Transitional year interns do rotations at the primary care/urgent care clinic, which allows a broad introduction to the diagnosis and management of common diseases that arise in the outpatient setting.
The clinic rotation offers an outstanding experience to learn about effective and efficient ambulatory care in medically complex patients from diverse socioeconomic backgrounds. In addition, didactic and case based learning sessions with primary and subspecialty attendings complement the patient care experience.
Other sites available for pediatric rotations