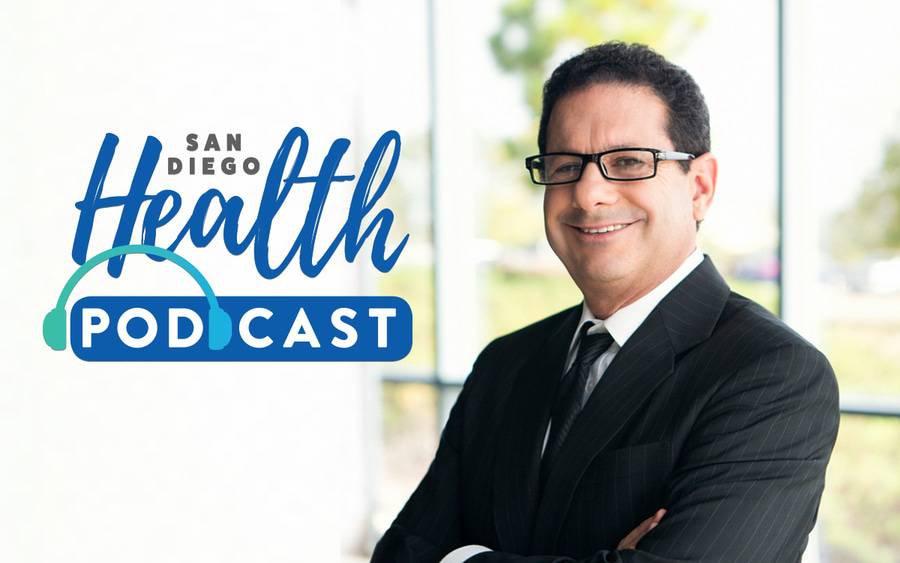 Get health advice and learn about advances in medicine at Scripps through the San Diego Health Podcast. Hosted by Susan Taylor, the bi-weekly program features physicians and other health providers. Episodes cover a wide range of topics to help you get well and stay healthy.  
Scripps Clinic Carmel Valley pediatricians Mackenzie Coffin, MD, and Daniel Lichtmann, MD, discuss why healthy eating is such a big issue for kids, how to build healthy habits early on, and what hidden sugar and fat sources to watch out for at the grocery store. Habits established in childhood tend to follow a person throughout their life.
Stacie Ly, MD, an internal medicine physician at Scripps Coastal Medical Center Carlsbad, discusses stress triggers, the physical and emotional toll chronic stress takes, and when to seek medical help. Dr. Ly also outlines some stress management strategies that work. Listen now >
What Is Inflammatory Bowel Disease?
Gauree Konijeti, MD, a gastroenterologist who leads the Scripps Clinic Inflammatory Bowel Disease Program, explains IBD in depth, including the two most common types: Crohn's disease and ulcerative colitis, as well as symptoms and risk factors. Listen now >
Understanding High-Risk Pregnancy
Perinatologist Shahram "Sean" Daneshmand, MD, medical director of the Scripps Clinic Division of Maternal and Fetal Medicine, and Sara Fernandes, a prenatal genetic counselor, discuss what qualifies a pregnancy as high-risk, how to manage a high-risk pregnancy and how genetic factors play a role. Listen now >
You're Pregnant. Congratulations! Now What?
Kirstin Lee, MD, an OB-GYN at Scripps Clinic La Jolla, and Certified Nurse Midwife Andrea Montiel discuss how health care professionals guide women through the different stages of pregnancy, address potential risks, provide post-pregnancy care and support and explain why Scripps is the ideal place to deliver a baby. Listen now >
How Technology Is Reshaping the Surgical Field
Carol Salem, MD, medical director of the Scripps Minimally Invasive Robotic Surgery Program, discuss advances in robotic surgery, who's eligible, and what doctors can do now that wouldn't have been possible without the technology. Listen now >
Travel Tips for Your Next Trip Abroad
Saima Lodhi, MD, an internal medicine physician who specializes in travel medicine at Scripps Coastal Medical Center Hillcrest discusses how to prepare for that trip of a lifetime, and why preventive care matters when visiting a foreign country. Listen now >
How Pet Therapy Volunteers Help Patients Heal
Jill Sandman, manager of volunteer services for Scripps Health's north region, and Rosemary Van Gorder, a longtime Scripps pet therapy volunteer, discuss the health care system's volunteer program, the different roles volunteers play and how you can help. Listen now >
Russell Zane, MD, a family medicine specialist at Scripps Coastal Medical Center Carlsbad, discusses the different types of primary care physicians, common medical conditions that they treat, the role nurse practitioners and physician assistants play in a primary care provider team and how this improves your access to health care. Listen now >
How Robotic Surgery Is Changing Treatment for Gynecologic Conditions
Anupam "Bobby" Garg, MD, and Valerie Gafori, MD, who are both OB-GYNs at Scripps, discuss common gynecological conditions that may require surgery and what doctors can do to treat them. Options include minimally invasive procedures performed using FDA-approved robotic medical equipment. Listen now >
Causes and Solutions to Chronic Knee Pain
William Bugbee, MD, an orthopedic surgeon at Scripps Clinic, discusses common causes of knee pain, including joint deterioration due to osteoarthritis, and what can be done to alleviate it. When lifestyle changes, medication and physical therapy aren't enough, knee replacement surgery becomes an option. Bottom line: For most patients, knee replacement surgery can be a game-changer. Listen now >
Ages And Stages in a Woman's Life and the Importance of OB-GYNs
Dale Mitchell, MD, chairman of the department of obstetrics and gynecology at Scripps Clinic, discuss in detail the various stages of a woman's life — pre-conception, women in their reproductive years, pre-menopause and post-menopause — and specific health concerns and screenings associated with each stage. Listen now >
Devices Now Able to Close a Hole in the Heart and Cut Risk of Stroke
Matthew Price, MD, an interventional cardiologist at Scripps Clinic, discusses what happens when you have a hole in your heart and what two devices can be used to close that hole before it has a chance to cause problems. Listen now >
ER vs. Urgent Care vs. Walk-in Clinic
Shawn Evans, MD, an emergency medicine physician, and Siu Ming Geary, MD, an internal medicine physician and vice president of primary care, discuss the different types of same-day care available, when to go to the emergency room and where to go for non-emergencies. Listen now >
Dolly Doctor, MD, an internal medicine physician who specializes in weight management, discusses the various types of plant-based diets and why it's not necessary for humans to eat meat. Listen now >
Scripps Organ Transplant Couple Celebrate Their Successful Match
Transplant surgeon, Randolph Schaffer, MD, discusses the living donor transplant process in-depth and what makes the Scripps Center for Organ and Cell Transplantation one of the best in the country. Listen now >
What Causes Urinary Incontinence and Other Pelvic Floor Disorders?
Scripps urogynecologist, Varuna Raizada, MD, who specializes in female urinary and reproductive treatment, discusses the different types of pelvic floor disorders. Listen now >
Stroke Types, Treatments, and Why Time Is of the Essence
Neurologist and medical director of the stroke program, Mary Kalafut, MD, discusses the different types of strokes, who is most at risk and why diagnosing a stroke as quickly as possible is important. Listen now >
Scripps Partners to End Cancer
Scripps MD Anderson Cancer Center medical director, Thomas Buchholz, MD, discusses how the Scripps MD Anderson Partnership Elevates Cancer Care in Southern California. Listen now >
How To Find The Right Primary Care Doctor For You
Internal medicine physician, Vivian Tran, MD, discusses what to look for when choosing a primary care physician. Listen now >
How New Technology Is Making Radiation Therapy Safer and More Effective
Scripps MD Anderson radiation oncologists Ray Lin, MD, explains why radiation therapy is more effective than ever. Listen now >
Choosing a Pediatrician: What to Look For, What to Ask
Pediatrician Dania Lindenberg, MD, offers tips for picking the right pediatrician for you before the baby is due. Listen now >
Why You Shouldn't Put Off Getting Screened for Colorectal Cancer
Gastroenterologist Walter Coyle, MD, shares what you need to know about colonoscopies and other screenings. Listen now >
Mitral Valve Leakage, The MitraClip and Life Without Open-Heart Surgery 
Interventional cardiologist Matthew Price, MD, explains how the MitraClip provides an alternative to open heart surgery to fix leaky heart valves. Listen now >
How Immunotherapy May Revolutionize Cancer Treatment
Medical oncologist Michael Kosty, MD, shares how immunotherapy is revolutionizing cancer treatment.
Lasers, Fillers and What to Expect from a Cosmetic Procedure
Cosmetic dermatologist E. Victor Ross, MD discusses what laser skin treatment can do and if you are you a candidate laser rejuvenation. Listen now >
Diabetes Causes, Treatments and How Technology Helped One Woman Get Her Life Back
Endocrinologist Athena Philis-Tsimikas, MD, discusses how new devices are improving the quality of life for people with diabetes. Listen now >
Skin Cancer, New Treatments and the ABCs of Skin Health
From dermatologic surgeon Hubert Greenway, MD, here's what you need to know about skin cancer and how to protect yourself. Listen now >
When Minimally Invasive Spine Surgery Is the Best Option for Chronic Back Pain 
Orthopedic surgeon James Bruffey, MD, talks with his patient Mark Erwin, who was sidelined by chronic back pain at age 40. Listen now >
LVADs, Pacemakers and How One Woman Is Thriving After a Heart Transplant
Scripps heart failure specialist J. Thomas Heywood, MD, talks with his patient Darla Calvet about treating heart failure with the LVAD. Listen now >
How Research at Scripps Could Revolutionize Treatment for Knee Osteoarthritis
Physician-scientist Darryl D'Lima discusses stem cells, smart implants and 3-D tissue printing as new solutions for osteoarthritis. Listen now >
Knowing When the Watchman Is Right for Your Heart
Scripps cardiologist Douglas Gibson, MD, and his patient David Brush discuss how the Watchman heart device came to be the right solution for Brush, who has AFib. Listen now >
When to Consider Hip Replacement Surgery?
Personal trainer and avid runner Christine Burke joins her doctor, Scripps orthopedic surgeon Rina Jain, MD, to discuss how Burke's hip replacement surgery led to relief from a decade of hip pain. Listen now >
Surprising Risk Factors and Early Signs of Heart Attack in Women
Cardiologists Christina Adams, MD, and Poulina Uddin, MD — both from Scripps Women's Heart Center — discuss how heart attack symptoms are different in women and share what you need to know about heart health today. Listen now >