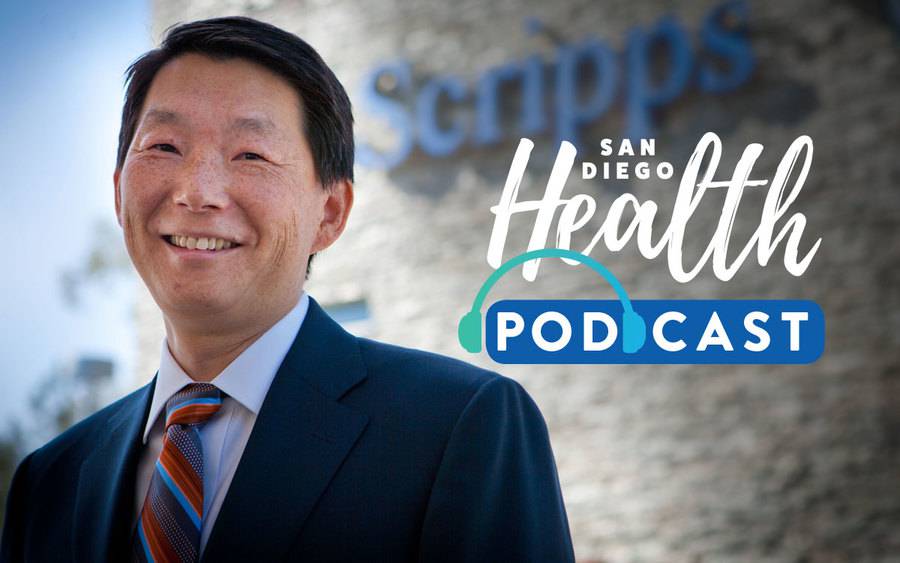 Get health advice and learn about advances in medicine at Scripps through the San Diego Health Podcast. Hosted by Susan Taylor, the bi-weekly program features physicians and other health providers. Episodes cover a wide range of topics to help you get well and stay healthy.  
Scripps MD Anderson radiation oncologists Ray Lin, MD, explains why radiation therapy is more effective than ever.
Gastroenterologist Walter Coyle, MD, shares what you need to know about colonoscopies and other screenings. 
Interventional cardiologist Matthew Price, MD, explains how the MitraClip provides an alternative to open heart surgery to fix leaky heart valves.
Episode 10: How Immunotherapy May Revolutionize Cancer Treatment
Medical oncologist Michael Kosty, MD, shares how immunotherapy is revolutionizing cancer treatment. Listen now >
Episode 9: Lasers, Fillers and What to Expect from a Cosmetic Procedure
Cosmetic dermatologist E. Victor Ross, MD discusses what laser skin treatment can do and if you are you a candidate laser rejuvenation. Listen now >
Episode 8: Diabetes Causes, Treatments and How Technology Helped One Woman Get Her Life Back
Endocrinologist Athena Philis-Tsimikas, MD, discusses how new devices are improving the quality of life for people with diabetes. Listen now >
Episode 7: Skin Cancer, New Treatments and the ABCs of Skin Health
From dermatologic surgeon Hubert Greenway, MD, here's what you need to know about skin cancer and how to protect yourself. Listen now >
Episode 6: When Minimally Invasive Spine Surgery Is the Best Option for Chronic Back Pain 
Orthopedic surgeon James Bruffey, MD, talks with his patient Mark Erwin, who was sidelined by chronic back pain at age 40. Listen now >
Episode 5: LVADs, Pacemakers and How One Woman Is Thriving After a Heart Transplant
Scripps heart failure specialist J. Thomas Heywood, MD, talks with his patient Darla Calvet about treating heart failure with the LVAD. Listen now >
Episode 4: How Research at Scripps Could Revolutionize Treatment for Knee Osteoarthritis
Physician-scientist Darryl D'Lima discusses stem cells, smart implants and 3-D tissue printing as new solutions for osteoarthritis. Listen now >
Episode 3: Knowing When the Watchman Is Right for Your Heart
Scripps cardiologist Douglas Gibson, MD, and his patient David Brush discuss how the Watchman heart device came to be the right solution for Brush, who has AFib. Listen now >
Episode 2: When to Consider Hip Replacement Surgery?
Personal trainer and avid runner Christine Burke joins her doctor, Scripps orthopedic surgeon Rina Jain, MD, to discuss how Burke's hip replacement surgery led to relief from a decade of hip pain. Listen now >
Episode 1: Surprising Risk Factors and Early Signs of Heart Attack in Women
Cardiologists Christina Adams, MD, and Poulina Uddin, MD — both from Scripps Women's Heart Center — discuss how heart attack symptoms are different in women and share what you need to know about heart health today. Listen now >