Scripps Mercy Hospital Chula Vista

435 H Street

Chula Vista

, CA 91910 US
Directions

Visiting Hours

8 a.m. - 8:30 p.m.
Visiting hours may be adjusted based on the patient's needs or wishes.

Emergency Services

The ER is open 24 hours a day, 7 days a week.

Scripps Mercy Hospital San Diego

4077 5th Avenue

San Diego

, CA 92103 US
Directions

Visiting Hours

8 a.m. - 8:30 p.m.
Visiting hours may be adjusted based on the patient's needs or wishes.

Emergency Services

The ER is open 24 hours a day, 7 days a week.

Physical Rehabilitation

Mon. - Fri., 7 a.m. to 4:30 p.m.
619-849-4470
Imaging Excellence at Scripps Mercy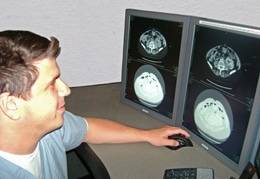 Imaging Excellence at Scripps Mercy
Scripps Mercy Hospital in Chula Vista and San Diego offers technologically advanced imaging services to provide patients and physicians with the most accurate screening and diagnostic information. All of our imaging procedures are performed by imaging specialists who are experts in their field. We offer convenient locations, timely appointment scheduling, filmless capabilities and quick results.
Our Imaging Services team comprises board-certified radiologists, certified technologists and specialized registered nurses. Our experienced specialists further enhance their skills by ongoing education in the latest technology, analysis and treatment. This team of experts works together to provide our patients with safe imaging procedures that produce accurate results.
Scripps Mercy Hospital's Imaging Services employs state-of-the-art imaging technology that features the most comprehensive clinical capabilities in the industry. To ensure that physicians can provide patients with a definitive diagnosis, we offer the full range of imaging procedures.
Filmless for quick results
At Scripps Mercy, our goal is to offer accurate and timely results to expedite the patient's plan of care. To fulfill that goal, Scripps Mercy became one of the first hospitals in the nation with completely filmless imaging capabilities, allowing physicians and patients alike to benefit from immediate access to results. Now instead of waiting for hardcopy images to be delivered, your physician can access and view your imaging scans, as well as the radiologist's interpretation, on a computer in their own office.
Scripps Mercy now offers next day appointments for many of our imaging procedures, including computed tomography, magnetic resonance and mammography, meaning that patients can be seen the day after scheduling an appointment.