Cheek lifts and mini face lifts with maximum results
Cheek lift surgery— which can include a mini lift, a complete cheek lift and neck lift, or a mid-face lift— is a facial plastic surgery that reduces the look of heavy or sagging cheek tissue to restore a more youthful appearance. Whether you want to reduce heavy jowls, puffy lower cheeks or tired eyes, a cheek lift can help reduce the signs of aging.
All three types of cheek lifts are considered outpatient facial plastic surgery procedures.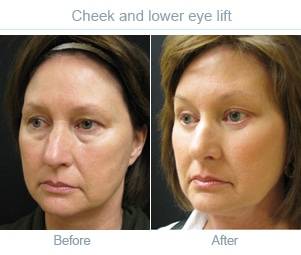 A mini lift is a cheek lift that produces more subtle improvements at a lower cost and is typically performed under local anesthesia. With a mini lift, just a small area is lifted near the ears to smooth skin across the cheek area.
Some patients choose to further rejuvenate their appearance by including an eye lift, brow lift or a neck lift with their cheek lift to help open eyes and further reduce fine lines.
These additions to a mini facelift or mini lift, are outpatient facial plastic surgery procedures, which are often done under local anesthesia, and produce more subtle improvement at a lower cost, and faster recovery.
A complete cheek lift and neck lift provides more dramatic results by pulling sagging cheek tissue up and anchors it in place higher on the cheek bone, and improves the neck contour as well.
View more cheek lift photos
A mid-face lift smoothes the midsection or central third of the face.
About Scripps Clinic Division of Plastic Surgery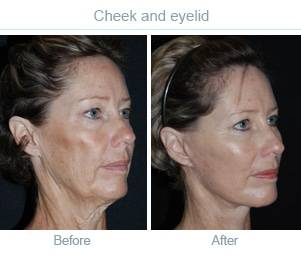 When considering facial plastic surgery, you want to be sure that you go to a plastic surgery center that offers safety as well as quality. At Scripps Clinic, our surgeons are expertly trained in cheeklifts/facelifts so they can create a natural look with maximum safety.
When you have a complete cheek lift, mini lift or mid-face lift at Scripps Clinic Division of Plastic Surgery, you can be assured of comfort and quality. The surgeons – Ross Rudolph, MD, and Salvatore Pacella, MD – who practice out of our plastic surgery center:
Are board certified in plastic surgery
Have years of experience in the artistry of cheek lifts, neck lifts, mini facelifts, mid-face lifts, eye lifts and brow lifts
Partner with board-certified anesthesiologists
In addition, all procedures are performed in a hospital or approved ambulatory surgery setting for added sterility and infection prevention, as well as maximum safety.
When you've made the decision to have facial plastic surgery, your surgeon will help you decide if a complete cheek lift and neck lift, mini facelift or mid-face lift is right for you. Your plastic surgeon will discuss the specifics of your surgery with you so that you can expect the best results for your skin and bone structure.
General guidelines for cheek lift surgery
While every patient is different, below are some general guidelines for your cheek lift surgery:
The duration of cheek lift surgery depends on the type of cheek lift surgery. A mini lift will take less time than a mid-face lift or a complete cheek lift and neck lift
During a complete cheek lift and neck lift, you will most likely be under a general anesthesia to reduce your discomfort. For a less dramatic mini lift or mid-face lift, you may only need local anesthesia
Bruising is usually minimal to moderate after a complete cheek lift, mini lift or mid-face lift. The amount of bruising will depend on what type of facial plastic surgery you have.
You will need to schedule several follow up appointments with your surgeon to check the progress of your complete cheek lift, mini facelift or mid-face lift including one or two days post procedure, and again at one and two weeks as necessary. All post facial plastic surgery visits are no charge.
You may return to work within 10 to 14 days after any of the cheek lift surgeries
Antibiotics as well as pain medication may be prescribed after your cheek lift surgery to help reduce discomfort, inflammation and possible infection