Eat, Drink and Be Healthy
What you can do to reduce the amount of cholesterol in your blood and lower your risk of heart disease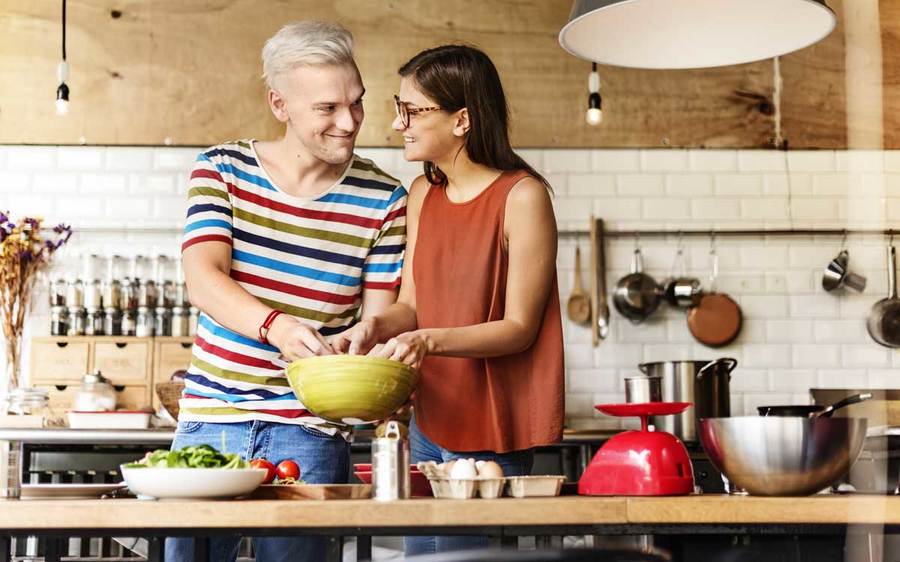 by Megan Boitano, MS, RD
Ask anyone who has ever embarked on a weight-loss diet or decided to start making healthier eating choices, and you'll probably hear a common complaint: despite their good intentions, many people have trouble sticking with the changes for the long run.
And for people who have diabetes, atherosclerosis or other health problems where diet is a factor, the challenges of restricting food choices can be especially frustrating.
That's why a little education can go a long way in helping people adopt healthier eating habits. Nutrition classes, such as our "Eating for Success" series at Scripps Memorial Hospital La Jolla, can make it easier for people with certain medical conditions — and anyone else who wants to learn to eat smarter and healthier.
These informative, interactive classes are designed to empower people to take what they learn and incorporate it into their everyday lives. Many classes, including the "Eating for Success" series, are offered free of charge.
But even if you can't attend classes, you can take a few steps to making lasting, healthy changes in the way you eat — and consequently, in the way you feel and live.
When it comes to atherosclerosis (the buildup of plaque in the arteries), there are some risk factors you can't control, such as genetics, and some you can — including diet. From a dietary standpoint, there are a number of things you can do to reduce the amount of cholesterol in your blood and lower your risk of heart disease. Here are a few of the tips we cover in this class:
Minimize unhealthy fats, especially saturated fat and trans-fats. Try to avoid solid fats such as butter, margarine, and lard; instead, substitute healthier monounsaturated or polyunsaturated fats such as canola oil or olive oil.
Add "good" fats to your diet. Omega-3 fatty acids, found in foods including flaxseed, walnuts, and some types of fatty, cold-water fish including salmon, may help lower the amount of triglycerides, a type of fat found in the blood.
Eat plenty of vegetables, fruits and whole grains, which are an excellent source of soluble fiber and can help lower blood cholesterol and your risk of heart disease.
Creating the perfect plate
This class was created especially for people with diabetes or at risk of developing diabetes. Many times, this group feels like it's all about what they can't eat. We focus on what people with diabetes can eat, and how to make the best choices for their health. For example:
Good carbs vs. bad carbs: Despite what some fad diets would have you think, not all carbs are bad. Picking the right kinds of carbs can make a major difference in successfully managing diabetes. "Healthy" carbohydrates, including whole foods such as whole grain bread, pasta and cereals, can help maintain blood sugar levels and control weight as well.
Use food labels to make healthy choices. There's a wealth of information on the label, but too often people look only at the amount of sugar, or the grams of fiber. We teach people to look at the total number of carbs, and to read the ingredients, too. Just because a loaf of bread is dark brown, for example, does not mean it is made from healthier whole grains or high in fiber.
Successful weight management
Based on information from the National Weight Control Registry (NWCR), this class offers successful weight management strategies based on real-world techniques that work.
The NWCR is the largest study of long-term successful weight loss maintenance in existence; it was developed to identify and investigate the characteristics of individuals who have lost 30 or more pounds and kept it off for a long period of time.
We studied the strategies that worked for these people, and incorporated those principles into the class. Here are a few:
Goal setting is key. Participants write down their goals, the barriers they expect to encounter and how they will handle them. For example, say your goal is to stop going through the drive-thru for dinner when you come home from work late at night. How are you going to act when you're in that situation next time? What plan will you use to achieve your goal?
Praise yourself for each positive step. Even if the goal is to eat just one bag of chips a day instead of two, that's a step in the right direction. We encourage everyone to praise themselves when they achieve a goal, regardless of how small it may seem. Nobody achieves perfection overnight.
This Scripps Health and Wellness information was provided by Megan Boitano, MS, RD, a Clinical Nutrition Manager at Scripps Memorial Hospital La Jolla.