Meet William Stanton, M.D.
Easing the anxiety of cancer care for Scripps Health patients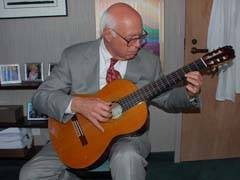 Walk into Dr. William Stanton's office and you immediately see that music is important to him: there's the classical guitar on a stand in the room, along with guitar books, a glass guitar miniature, and various other guitar- and music-related items.
Dr. Stanton, a medical oncologist at Scripps Mercy Hospital, took up the instrument 9 years ago while treating a patient, a guitarist who gave him encouragement.
Classical guitar is not an easy genre to play, but Dr. Stanton has seemed to pick it up quickly: he plays an Irish ballad or a classical composition with the easy confidence that comes with practice, and an affection for the calming nature of music.
"People come to oncology consultations and especially chemotherapy quite apprehensive. The classical guitar is certainly one of the mellowest instruments known to man, and if I just stop and play awhile, things get better," he says.
A plaque on his bookshelf reads "Music speaks when words fail," an expression of music's ability to form special connections with people.
As a general oncologist, Dr. Stanton sees patients with lung, colorectal, prostate, skin, and breast cancer, as well as lymphoma, and helps them gain access to effective treatment and support resources.
He has a rich, dual vision for cancer services at Scripps Mercy Hospital, as well as across the entire Scripps Health system. And true to the patient-centered mission of Scripps Mercy, he's emphatic about improving patient care.
Scripps Cancer Center emphasizes collaboration
As one of 3 medical directors of Scripps Cancer Center (SCC), Dr. Stanton has a diverse set of responsibilities in addition to his own practice. SCC gathers together the cancer physicians, technological resources and patient support programs of the five Scripps hospital campuses, plus Scripps researchers, in order to provide a comprehensive spectrum of care within one organization.
Though each hospital's cancer program has its own unique culture and set of strengths, collaboration under the umbrella SCC structure encourages physicians, nurses and other medical professionals to work closely together, and maximize the quality and efficacy of cancer care programs throughout Scripps Health.
Some particular programs that Dr. Stanton has initiated through SCC include:
Weekly multidisciplinary patient care conferences on Scripps Mercy San Diego's oncology unit
Introducing real-time internet access for literature review during weekly tumor boards
A plan to use Mercy's Capital Campaign to bring more state-of-the art cancer treatment technology to Scripps Mercy Hospital
Patients benefit from Network accreditation
He's also leading SCC's current campaign to obtain Network Cancer Program accreditation from the Commission on Cancer, which would be the first in California. Note: After initial publication of this article, Scripps did receive Network Cancer Program accreditation. Read the press release.
He firmly points out that the accreditation itself is less important than the process of seeking it. It's clear that Dr. Stanton is deeply committed to cancer patients, first and foremost, as he details the many ways patients benefit from accreditation. The accreditation process:
Motivates quality improvement in terms of clinical outcomes and patient safety
Encourages distribution of resources throughout the system, bringing care to patients' hospital of choice, and near their primary doctors
Fosters and reinforces cancer research, bringing new treatments and diagnostics to patients
Provides access to important comparative outcome data from other institutions, to constantly self-evaluate and refine care practices
Results in greater regional and national recognition for Scripps cancer programs, which can generate increased funding from public and private sources
As Dr. Stanton puts it, "This is an incredibly important process…Patients can be confident that Scripps Cancer Center is looking after itself, and imposing upon itself some fairly tight quality control metrics."
The strategic distribution of cancer resources and personnel across the region — through hospital and clinic facilities across San Diego County — also reflects Scripps' commitment to close-to-home care, when possible. This is especially important to cancer patients, who often make multiple trips to facilities.
Cancer care's bright future
As he looks out over the Scripps Mercy Hospital campus from his office, Dr. Stanton sees a bright future for cancer resources in San Diego: new technologies and facilities, excellent oncologists coming to Scripps, and a strong commitment to collaboration.
Mercy's special legacy of compassionate care for all patients complements and reinforces these resources. As Dr. Stanton says, "Mercy really is a special place, where taking care of patients in a supportive environment is genuinely valued."