Healing Environment Leads Many to Become Benefactors
Scripps Center for Integrative Medicine inspires former patients to support programming for others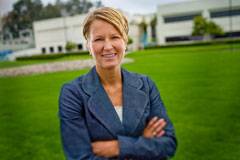 Those who come to Scripps Center for Integrative Medicine describe the physical surroundings as nurturing and soothing. They may not be able to pinpoint why precisely.
Maybe it's the natural light and warm colors; comfortable seating and welcoming spaces; or the overall design of an environment in tune with nature. It enhances their experience as they find better health, and inspires them to want to help others find it too.
"Many of the people who support Scripps Center for Integrative Medicine are patients who have had such a positive experience that they want to give back to the center in a meaningful way," explains Catherine Mateja, director of development for Scripps Center for Integrative Medicine.
"Our donors leave a legacy that will benefit their friends and family and the community, for years to come. It makes me feel good to know I am helping donors make a world of healing possible at Scripps."
The power of helping others heal
For many donors to Scripps Center for Integrative Medicine, giving is part of their healing. They give because it makes them feel good, in ways they may not even realize.
Research shows that most people believe in the value of giving, whether from a moral or spiritual standpoint or just a subconscious sense that it's right. One study that used brain scans of people in the process of making decisions about giving showed definitive brain activity.
Researchers described it as a "warm glow" that makes people feel good. Other studies show that charity improves emotional and physical well-being and helps individuals feel connected.
"The beautiful thing about philanthropy is that it brings joy to the person who gives," says Mimi Guarneri, M.D., medical director of Scripps Center for Integrative Medicine. "This kind of emotional joy has a positive physical effect. It's one of the best things for decreasing stress."
Expanding integrative medicine services at Scripps
Ms. Mateja says her work with donors aligns with her personal philosophies about healing.
"I share the dream of expanding integrative medicine services at Scripps with Dr. Guarneri, her colleagues and her grateful patients," says Ms. Mateja. "At the end of the day, we are all working toward the same goal, which is to help people prevent disease, heal body, mind and spirit and live happier and healthier lives."
The success of Scripps Center for Integrative Medicine and the overwhelming demand for its life-changing programs have led to the need to expand. Now that fundraising for Phase II of the renovation project is complete, construction can begin.
"There is something special about the center…and it lives in the hearts of each person working there," Ms. Mateja adds.
"You see and feel the healing environment as soon as you walk through the door. Our donors, physicians and staff make it all possible."