Dr. Michael Kosty takes a collaborative approach with lung and prostate cancers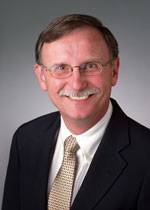 Dr. Michael Kosty takes a collaborative approach with lung and prostate cancers
Michael Kosty, MD is dedicated to providing excellent patient care and determined to continually advance cancer treatment services at Scripps. As medical director of the Cancer Center at Scripps Clinic and Scripps Green Hospital, he is in a position and an environment that enable him to do both.
"We're uniquely equipped and designed to provide the best cancer care possible," said Dr. Kosty. "When you are facing a cancer diagnosis, it's imperative to have ample resources and a team of experts on your side."
A comprehensive approach to cancer care
A seasoned hematologist and oncologist who specializes in lung and prostate cancers, Dr. Kosty has provided care for patients at Scripps Clinic in La Jolla, Calif. for nearly 20 years. He finds the collegial atmosphere at Scripps Clinic especially effective for patients undergoing cancer treatment, allowing for a more comprehensive approach to an inherently complex disease.
"With cancer, all organs are potentially involved,' said Kosty. "By its very nature, cancer requires medical teams to collaborate on a patient's care."
Physician offices at the main campus in La Jolla are attached to Scripps Green Hospital, a 173-bed facility. A range of specialists are within a short walk of each other – often just down the hall.
"The physical proximity encourages a collaborative spirit quite unlike many other cancer programs. Our patients enter a care environment where doctors know each other, know each other's work and research, and, most importantly, trust one another," said Dr. Kosty.
"This encourages communication, and results in more potential treatment options. It connects patients and providers with more resources, and that's critical in cancer care."
Cancer-related clinical research and graduate education
A multi-specialty medical group, Scripps Clinic encourages research and education.
"These are two aspects of cancer care here that directly affect patients, but are often overlooked as true benefits," he said. "Through our clinical research program, people may have access to experimental therapies not readily available elsewhere. They have the advantage of receiving care in an environment where clinicians are acutely aware of the latest research findings, and work to connect patients with available opportunities."
Dr. Kosty also has a unique perspective on the value of medical education in a care facility. He's director of both Graduate Medical Education (GME) and the Hematology and Medical Oncology programs at Scripps Clinic.
In those roles, he strives to ensure that the next generation of physicians develops personal, clinical and professional competence.
"It's an investment in the future of medicine — and frequently a perk for patients. They appreciate getting the best of both worlds: the experience level of the teaching physician, as well as the fresh perspective of the graduate medical professional," said Dr. Kosty. "I find that most people in our care really like to interact with the fellows [graduate medical students], which is great because it's so important to get to know your patients."
The Cancer Center at Scripps Clinic and Scripps Green Hospital is part of the Scripps Cancer Center (SCC), and is a regional and national destination for people seeking specialized oncology services which mobilizes the collective resources of five hospital campuses and improves access to cancer services in San Diego.
As the center's medical director, Kosty was instrumental in Scripps Cancer Center becoming California's only Commission on Cancer Network Cancer Program, and he continues to help guide its development.
"The key goal of the Scripps Cancer Center has been to integrate oncology specialists and services across the Scripps provider network, and connect patients with a broader range of resources," said Dr. Kosty. "We've really worked to optimize individual campus strengths in the process of uniting them."