Man's Life is Transformed After Having Gastric Bypass Surgery
Scripps Health patient Sam Hamood underwent successful gastric bypass surgery, ready for an active lifestyle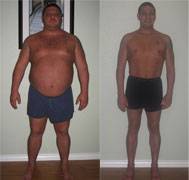 Scripps Health patient Sam Hamood underwent successful gastric bypass surgery, ready for an active lifestyle
Sam Hamood was once a self-described scrawny guy. After joining the Navy, he changed his physique through diligence and discipline, adding pounds of muscle to his 6-foot, 1-inch frame.
"When you are out to sea or in a foreign country, eating excessively and drinking all the time isn't an option," he said. "You have to stay in shape to do your job."
When his military career ended, Hamood's lifestyle changed. He went from being active and athletic to sedentary and social.
"I stopped exercising and started eating — a lot," he explained.
Hamood's new career didn't help. He worked in sales, where free meals are part of the client courting ritual.
"I would schedule three lunches a day on sales calls and eat at every one of them," he said. "I just got bigger."
The health costs of being heavy
As Hamood's weight ballooned, he developed sleep apnea, became pre-diabetic and his blood pressure skyrocketed.
"I couldn't even walk across an air conditioned room without breaking a sweat," he said. "I was miserable."
At his heaviest, Hamood weighed 364 pounds. After learning his wife was expecting their first child in 2006, he dropped more than 80 pounds. Over the years, the weight returned. As his daughter grew older and became more aware of the world around her, she noticed her dad's size — and so did her playmates at daycare.
"She would get teased by the other kids because of my weight. That just broke my heart," he said. "I knew I wasn't my best, but I didn't want her to suffer because of it."
Exploring surgical weight loss treatments
Diets helped, but the weight loss he achieved didn't last. Wanting to be healthy for himself and his growing family, Hamood looked for a long-term solution. In early 2009, he visited Scripps Clinic Center for Weight Management in San Diego to explore surgical weight loss treatments.
His doctor, Mark Takata, MD, recommended Roux-en-Y gastric bypass surgery. During the procedure, the stomach is stapled to create a small pouch and a passage for food to go around a section of the small intestine. The surgery leads to a dramatic reduction in the volume of the stomach.
Prior to gastric bypass surgery, Hamood spent six months adapting to new diet and exercise habits that are essential to long-term success following surgery. Weighing in at more than 300 pounds, he underwent laparoscopic gastric bypass surgery in August of 2009 at Scripps Green Hospital. Three days after he checked in, he went home to heal.
A dramatic transformation toward health
One year after weight loss surgery, Hamood had lost more than 120 pounds and regained his health, dramatically reducing risk factors for heart disease and diabetes. His svelte new frame has garnered lots of compliments and a little confusion.
"Most people who knew me when I was heavy don't even recognize me anymore," said the 38-year-old dad. "It's been a long haul, but well worth it. I now have a new lease on life."
The lease comes with terms. Hamood has had to change his lifestyle dramatically. He now eats a healthy diet and exercises every day.
"I find a way to incorporate physical activity into my life," he said. "When the gym isn't available, I'll walk a few miles, park far from the front door or take the stairs instead of the elevator. I make it work."
Hamood's commitment to changing his life doesn't waiver when he is on the road for work. Now a consultant in the wireless industry, he still travels on business, but eats just one lunch – not three.
During meals at home with his family, he'll excuse himself from the table and take a walk if he feels the urge to overeat.
"My family understands what I need to do and why," he said. "Prior to surgery I was miserable. Every day, both my health and spirit suffered. I had a lot going for me but was merely surviving. Scripps truly partnered with me and provided the tools necessary for me to live my best life."
Hamood's desire to be present and healthy for his family provided the extra incentive he needed to push through the hard times.
"My wife and I are now expecting our second child. I look forward to playing with my kids and chasing after them on the playground without struggling to keep up," he said. "I'll make sure they live a healthy lifestyle from the start. I now feel like I can be a better role model."