Studies Yield Clues About Alzheimer's
New research findings may one day help people avoid or delay onset of the most common form of dementia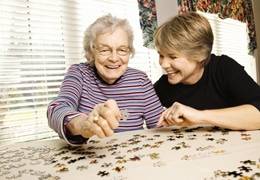 Between 2.6 and 5.2 million Americans are living with Alzheimer's disease. That number is expected to quadruple over the next four decades, according to patient advocacy group Alzheimer's Disease International.
While advancing age, family history, and genes play a major role in determining Alzheimer's risk, the exact cause of the disease is still unknown. Now, new research is shedding light on this form of dementia, providing hope that we may one day be able to stop progression of the disease, and possibly, even prevent it.
Identifying the risk factors
In 2011, a study conducted at the San Francisco VA Medical Center found that many Alzheimer's patients share common risk factors. If patients were able to modify their behavior to reduce these risk factors, researchers suggest, there is the potential to reduce the number of new cases by more than half.
While this may sound promising, it is important to note this is not yet a conclusive study, but a stepping stone toward unraveling the mystery behind Alzheimer's disease.
"This is really a preliminary study to figure out what health factors were present before the patient developed Alzheimer's," says Abraham Chyung, MD, a neurologist with Scripps Clinic in San Diego, California. "But linking of these conditions is an exciting find."
Alzheimer's patients who participated in the study had in the following risk factors in common:
Low education
Smoking
Physical inactivity
Depression
Mid-life hypertension
Diabetes
Mid-life obesity
"Some of these things are difficult to control," says Dr. Chyung. "For example, there are a lot of genetic factors that are outside of the patient's control. However, there are things that patients can do to help themselves such as not smoking, being more active, and vigilantly treating recognized risk factors like diabetes."
Dr. Chyung notes that living a healthy and active lifestyle can help prevent a variety of conditions, not just Alzheimer's.
For patients who have already developed the early symptoms of Alzheimer's, another study is paving the way for future treatment options to potentially delay its progression. Researchers at the University of Washington tested a form of inhaled insulin on patients with early Alzheimer's symptoms. Participants in the study who received the insulin treatments had either some improvement or their symptoms remained the same. For those on the placebo, symptoms continued to progress.
The insulin research is preliminary. The treatment still needs to be put to the test in a larger, longer study. If it is proven to be effective, it'll be years before it is accessible to patients.
"Right now, there is no cure for Alzheimer's disease, but with every new study, researchers come closer to finding effective treatment options and possibly even ways to prevent its onset. That is the goal that we strive for," said Dr. Chyung, "To limit the number of patients that develop the disorder."
If you would like to discuss your risk factors for Alzheimer's disease or other conditions such as heart disease, diabetes and stroke, call 1-800-SCRIPPS for a referral to a Scripps doctor. Learn more about the events and classes at Scripps designed to help you live a healthier lifestyle.