Scripps Participates in National Prescription Drug Take Back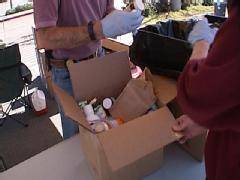 Scripps as part of the nationwide prescription drug take back day will host five drop-off locations in San Diego County. On Saturday, April 28, from 10 a.m. to 2 p.m., personnel will be available to accept unused prescription drugs from people who want to dispose of their medications safely and anonymously at the following Scripps Health locations:
Scripps Coastal Medical Center Carlsbad
2176 Salk Ave., Carlsbad
Scripps Clinic Rancho Bernardo
15004 Innovation Drive, San Diego
Scripps Memorial Hospital Encinitas
354 Santa Fe Drive, Encinitas
Scripps Green Hospital
10666 N. Torrey Pines Rd., La Jolla
Scripps Mercy Hospital Chula Vista
435 H Street, Chula Vista
The San Diego Sheriff's Department offers 23 locations in the community where the public can drop off unused drugs for proper disposal anytime of year. Visit the San Diego Sheriff's Department website to find a location near you.