22nd Annual Spinoff: Auction for Life Raises $1.2 Million
"Charting the Course" auction benefits lifesaving cancer care at Scripps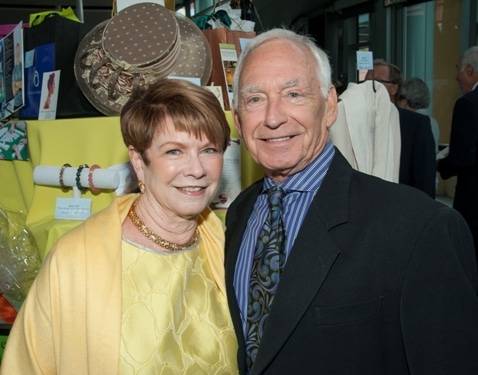 The 22nd Annual Spinoff: Auction for Life, "Charting the Course," was held on Thursday, May 9, 2013, at the Hyatt Regency La Jolla Aventine, and raised nearly $1.2 million to support cancer programs and patient support services at Scripps Cancer Care, Stevens Division, at Scripps Memorial Hospital La Jolla.
The event met its $500,000 goal to provide the remaining funds that will bring a new Mobetron Intra-Operative Electron Radiation Therapy (IORT) machine to Scripps patients. IORT is delivered directly to a tumor site while a patient is undergoing surgery, and allows patients to start their road to recovery sooner – sometimes 6-8 weeks sooner – than they might with a combination of post-surgical chemotherapy followed by radiation therapy.
Major gifts ranged from $10,000-$250,000, including a generous contribution by the evening's honorees, Brooke and Dan Koehler. The Koehlers have supported Scripps through the annual Spinoff event for nearly two decades.
More than 400 guests attended the nautical-themed event, enjoying cocktails, dinner and live entertainment while bidding on luxury items, once-in-a-lifetime experiences and lavish getaways, including:
•Seven-night European Boutique River Cruise
•Dinner for four at the exclusive French Laundry restaurant in Napa Valley
•Tickets and hotel package for Beyonce's sold-out "Mrs. Carter" tour in Las Vegas
•New York getaway package for two, featuring luxury treatment at the Ritz Carlton New York, Central Park, roundtrip airfare and a live taping of "Late Night with Jimmy Fallon"
•One-week stay in Waikoloa Colony Villa on the Big Island of Hawaii, including a helicopter tour, catamaran cruise and more
•Tickets to a live taping of "The Voice"
•Studio visit and live taping of "Anger Management," starring Charlie Sheen
Chaired by Teresa and Randy Cundiff, the 22nd Annual Spinoff: Auction for Life commemorated more than two decades of supporting lifesaving care at Scripps Cancer Care, Stevens Division. Treating patients with more than 50 types of cancer, Scripps Cancer Center, Stevens Division, is one of the leading oncology centers in the region and relies on Spinoff and other philanthropic support to fund its lifesaving programs and services.
For more information on ways to support lifesaving care at Scripps Memorial Hospital La Jolla, please call Scripps Health Foundation at 858-626-6786 or visit Scripps.org/giving.
Learn more about Scripps Health, a nonprofit integrated health system in San Diego, Calif.