6 Healthy Activities to Do in San Diego
Primary care doctors at Scripps share how they stay active outdoors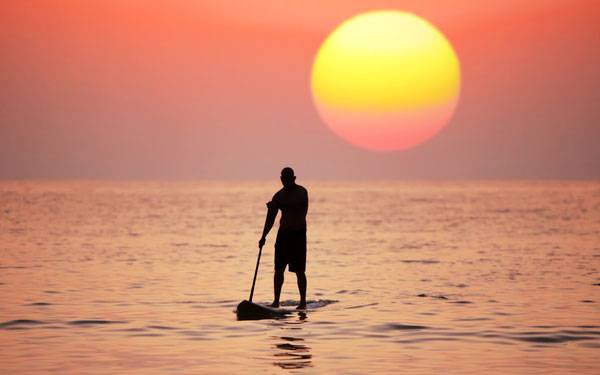 We recently asked Scripps primary care physicians to share their favorite warm-weather outdoor activities.
Here's what a few of them do to stay in shape while exploring San Diego's trails, waves, lagoons and canyons — along with a few recommendations for you.
Julia Shrivastava, MD, Scripps Clinic, Del Mar, is a family medicine physician with special interests in adolescent and geriatric medicine.
"I like to take my dogs on long walks at the beach, daily if I can. I usually take my husband along with me as well. We recently relocated, and used to do this at Virginia Beach. We're still exploring dog-friendly beaches in San Diego. During the week, it's nice to unwind with the dogs after a long workday. On weekends, we go first thing in the morning. It's a great activity for both us and the dogs — healthy and good for the soul!"
Carlos Quiros, MD, Scripps Coastal Medical Center, Eastlake, is a family medicine physician who treats patients of all ages, from newborns to the elderly, with special clinical interest in preventive medicine and chronic disease management.
"I enjoy multiple outdoor activities in San Diego. When I get the opportunity, I like an early morning surf with my brother and close friends. With our children, my wife and I enjoy taking them on hikes to Torrey Pines, going to the beach, the San Diego Zoo and biking to Balboa Park. I have also recently taken up running and have discovered that our town has a huge variety of great locations to go for runs of just about any distance. I like almost any activity that promotes a healthy lifestyle, and I recommend everybody take advantage of our unique outdoor opportunities."
John Marino, III, MD, Scripps Coastal Medical Center, Alvarado Court, is an internal medicine physician.
"I have been riding bicycles since I was probably 6 years old, and I'm a road and mountain bike riding enthusiast. I used to ride to school — even in high school, when that wasn't the cool thing to do. I ride regularly around San Diego, in the canyons or road courses throughout the city. It is a great way to get cardio exercise and cover a lot of beautiful geography. I ride three days a week during the work week and ride an indoor exercise bike another two days. When I travel to places like Mammoth or Hawaii, I either take my bicycle with me or rent and ride daily while I'm on vacation. Usually I ride alone, because I never know what my schedule will be, but sometimes get a group together to ride for special events."
Hai Le, MD, Scripps Coastal Medical Center, Vista, is an internal medicine doctor with special clinical interests in cardiology and pulmonology.
"I enjoy windsurfing at Mission Bay a couple of times per week, whenever the wind blows, although the best hours are usually from noon through sunset. It is an old sport recently on the rise again. Windsurfing is incredibly relaxing because of all the surrounding elements — blue sky, clouds, ocean, waves and wind. It's all quite refreshing, and I highly recommend people give it a try."
Nicole Gorton, MD, Scripps Coastal Medical Center, Hillcrest, is a pediatrician with special interests in childhood development and nutrition.
"I enjoy trail running with a friend in local canyons, mountains and beach sloughs a few times a week, in the early morning, just after sunrise. It's quiet, and there are so many animals out then. I have always enjoyed running, and soft trails are better on joints. I would recommend any and all outdoor activities that keep our body moving. Later in the day, I also enjoy hiking the trails with my kids. Our area is so full of trails most people probably never even see."
John Dawkins, MD, Scripps Clinic, Del Mar, is a family and sports medicine physician with clinical interests in preventive medicine and dermatology.
"My favorite new activity is stand-up paddle boarding. If the waves are good, I head to the beach in Del Mar. For a more relaxed session, my wife and I like to paddle around local bays, like Mission Bay or Carlsbad lagoon. In fact, I started because it's a great activity to share with my wife, who doesn't surf as much as I do, and starting out in a quiet lagoon without waves makes it a great activity for beginners. I usually go on the weekends — Sunday mornings before too many people show up — but occasionally sneak in a weekday session after work during the summer. I prefer paddle boarding with family or friends; the more the merrier."