6 Myths About Hospice Care
Note to Patients: The following news is posted for archival purposes only. Scripps is no longer accepting new patients for hospice care.
Who can benefit from this unique care and why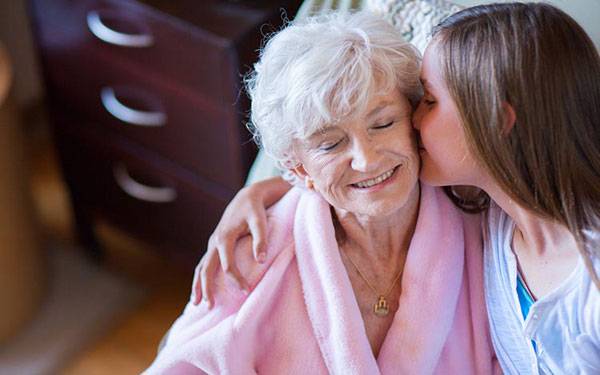 Hospice provides end-of-life care. Because death is inevitable, almost all families could benefit from it one day. Despite the widespread need, a lot of people still don't fully understand what hospice is or how it could help a person facing a life-limiting illness and their loved ones.
Tim Corbin, MD, medical director for the Scripps Hospice Program, demystifies some of the most common misconceptions about hospice care.
Myth: Hospice means giving up hope.
"Hope is a powerful force," says Dr. Corbin. "Hope does not end with a diagnosis that may qualify a patient for end-of-life care."
Instead, he says hospice care focuses on maximizing quality of life in the time that is left, as well as helping the patient be as free as possible from pain, symptoms, fear, loneliness and loss of control. Hospice also nurtures and supports the patients' loved ones, even after the patient's death, offering hope for the future after their loss.
Myth: Patients must leave their homes to receive hospice care.
Hospice care may be provided in the patient's home or wherever the patient resides, including residential, skilled nursing and assisted-living facilities.
"Patients are more comfortable in familiar settings, and the goal of hospice is, after all, to alleviate as much of the patient's discomfort as possible," Corbin says. "It's also easier for friends and family to focus on their loved one and provide support when the patient receives care at home or in a home-like setting."
Myth: Hospice is expensive.
"Hospice is no more costly than aggressive treatments that seek to cure, and in many cases is less expensive," says Dr. Corbin. In addition, most insurance providers, including Medicare and Medi-Cal, cover the cost of hospice care, leaving few out-of-pocket expenses for families who are already coping with an impending loss.
Myth: Hospice is only for cancer patients.
"While the very first hospice services were offered to patients with cancer, today hospice care is available to individuals with any kind of advanced, life-limiting illness," says Dr. Corbin. "These may include end-stage heart and lung disease, cancer, ALS, Alzheimer's disease, AIDS or severe birth defects."
Myth: Patients cannot receive complex treatments or interventions such as IV fluids, chemotherapy or radiation while on hospice care.
While some hospice programs may not provide such treatments, Scripps Hospice will evaluate the need for complex treatments and interventions on a case-by-case basis.
"If a treatment promotes comfort and quality of life, patients may be able to receive them," says Dr. Corbin.
Myth: Medicare provides only six months of hospice care, so enrollment should be delayed as long as possible.
Medicare has no time limitations for hospice services. Patients have access to the Medicare hospice benefit as long as the patient's physician and the hospice medical director certify that the patient's illness is still considered "terminal" and the patient has a life expectancy of six months or less.
"Everyone deserves to be treated with dignity and respect at every stage of life," says Dr. Corbin. "Hospice care isn't just for those who face an imminent death, but it's there to give patients the best end-of-life they could have once they've made the decision not to seek further curative treatments.
He adds, "While I know that discussing hospice is a conversation nobody wants to have because it might be uncomfortable or sad, it's important for everyone to know that there is a 'right way to die.' Hospice care can help patients live in each moment of that journey by providing patients and their loved ones with the comfort and support they need to experience it with dignity."