Should Men Get Screened for Prostate Cancer?
An oncologist explores the controversy and treatment options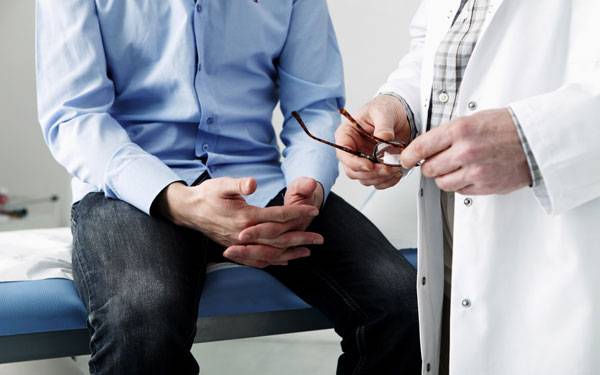 According to the American Cancer Society, this year approximately 233,000 men will be diagnosed with prostate cancer in the United States, and about 29,000 will die of the disease. Behind skin cancer, it is the second-most diagnosed cancer in men, and is the second-leading cause of cancer death in men.
In recent years, controversy has emerged around evidence behind prostate-specific antigen (PSA) screening for prostate cancer, whether to choose treatment or "watchful waiting" when the disease is detected, which medical procedures are safe and effective for treating prostate cancer, and more.
Is prostate-specific antigen (PSA) screening effective?
In 2011, the U.S. Preventive Services Task Force issued recommendations to end routine screening for prostate-specific antigen (PSA) for all men, concluding "many men are harmed as a result of prostate cancer screening and few, if any, benefit." But Carl Rossi, MD, a physician at Scripps Proton Therapy Center, disagrees.
"Regular PSA testing has led to earlier and more sensitive detection of the disease, and the cure rate for prostate cancer has increased significantly since widespread use of PSA testing began in the early 1990s," says Rossi.
Especially for men with a strong family history of prostate cancer, which means their father and one other first-degree male relatives had the disease, and for African-American men, Dr. Rossi says annual PSA screenings should begin at age 40.
Men with significant urinary symptoms should be screened. These include:
Burning or pain with urination
Difficult urination or trouble starting and stopping
Increased urinary urgency at night
Blood in urine
Decreased urinary flow or velocity
Loss of bladder control
Men without symptoms should talk with their doctor about getting regular PSA screening starting at age 50.
Is treatment or surveillance a better choice for prostate cancer?
"We know that a lot of men diagnosed with prostate cancer may physically suffer from it and won't need treatment," says Dr. Rossi. "We also know that some treatments can cause unwanted side effects in some cases, and that over-treatment is a problem with this disease."
But active surveillance, or "watchful waiting," is not the right solution for everyone. Men should be aware that prostate cancer progression is not easy to predict on an individual patient level.
It's important for men to meet with their physician to discuss the benefits and risks of each approach, both physiologically and psychologically. Patients who choose active surveillance in consultation with their physician should know that cancer can change during watchful waiting and that the "cure window" could possibly close without their knowing about it.
Which prostate cancer treatment is best?
There are many treatment choices for prostate cancer:
Open surgery
Proton beam radiation
Dr. Rossi says patients should take two to three months to discuss all of their treatment options with their oncologist unless they have a high-grade tumor that requires immediate treatment.
Men should also explore the benefits and potential drawbacks of each treatment method with family and other physicians to make the most informed decision they can.
For example, if a patient chooses radiation treatment for prostate cancer, will he worry because he knows his prostate gland will still be in his body? If so, surgery might be a better option. But surgery may carry other potential concerns, like the possibility of post-surgical incontinence.
And if he chooses watchful waiting, he needs to know that his cancer may change over time and become more problematic to treat at some point.