Cancer Survivorship: Empowering Tools to Live Better
Scripps Health uniquely blends oncology and integrative medicine to better serve patients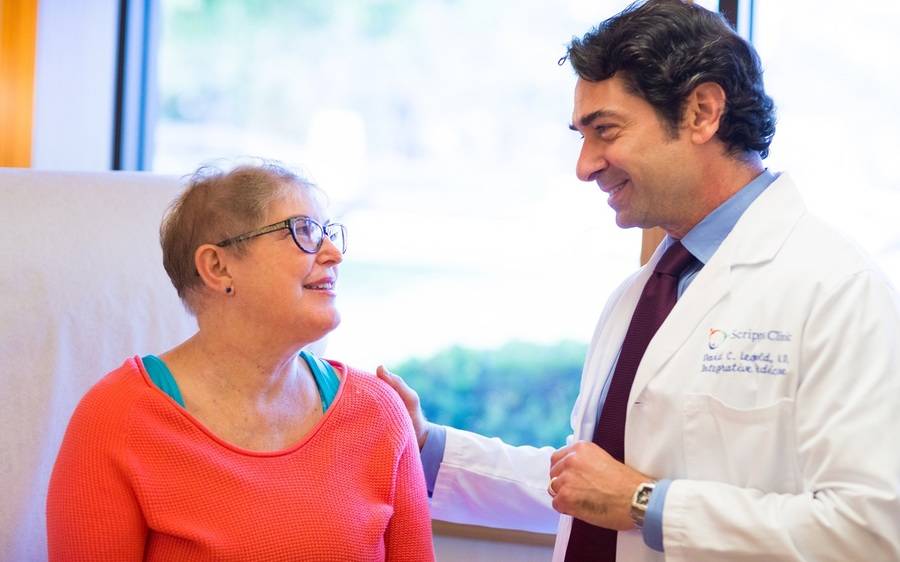 Scripps Health uniquely blends oncology and integrative medicine to better serve patients
Today, more people than ever are surviving cancer. While definitions of when someone is considered to be a survivor vary, integrative medicine helps people live better at any stage.
"Cancer survivors repeatedly have a group of problems that lend themselves well to integrative medicine," explains David Leopold, MD, director of integrative cancer survivorship services at Scripps Center for Integrative Medicine.
"From managing pain and combating fatigue to dealing with anxiety and relationship changes, our goal is to focus on patients' needs no matter where they are and where they want to go."
Holistic approach to cancer survivorship
The diverse needs of cancer survivors are addressed through a holistic approach. Programs and services cover diet, exercise and lifestyle improvements, stress and pain management, as well as mind-body techniques aimed at improving quality of life.
"Fifty percent of survivors have ongoing issues with fatigue without a clear cause," Dr. Leopold says. "About a third experience lingering pain. Many have anxiety, as they worry about disease progression or try to adapt to a new normal."
Cancer is a significant life event and people need to work through the changes that result.
"Cancer leaves an invisible brand on a person. Patients need strategies to cope," explains William Stanton, MD, an oncologist and the medical director of the Scripps Mercy Cancer Center.
Blending oncology and integrative medicine
The collaborative relationship between oncology and integrative medicine at Scripps is unique within the medical community. It has been shown to provide patients with quality of life improvements, and in some cases, to extend life.
"The more people that touch a cancer patient, the better off they are," adds Dr. Stanton.
"It's important for patients to feel like they're surrounded by opportunities for help."
This is true during the acute treatment phase as well as post-treatment.
During treatment, it's important for patients to inform their physicians of any integrative therapies they may be doing. When treatment ends, integrative approaches can really help.
"It's like stepping off a cliff," says Dr. Leopold. "Suddenly, patients are on their own and they don't know what to do or how to move forward. We act as a bridge as they step off that cliff. Our goal is to give survivors tools that empower them to lead happier, healthier and more fulfilled lives."