Brain Tumor Patient Calls CyberKnife Radiation Therapy "Truly a Miracle"
Stereotactic radiosurgery treated tumor in just three sessions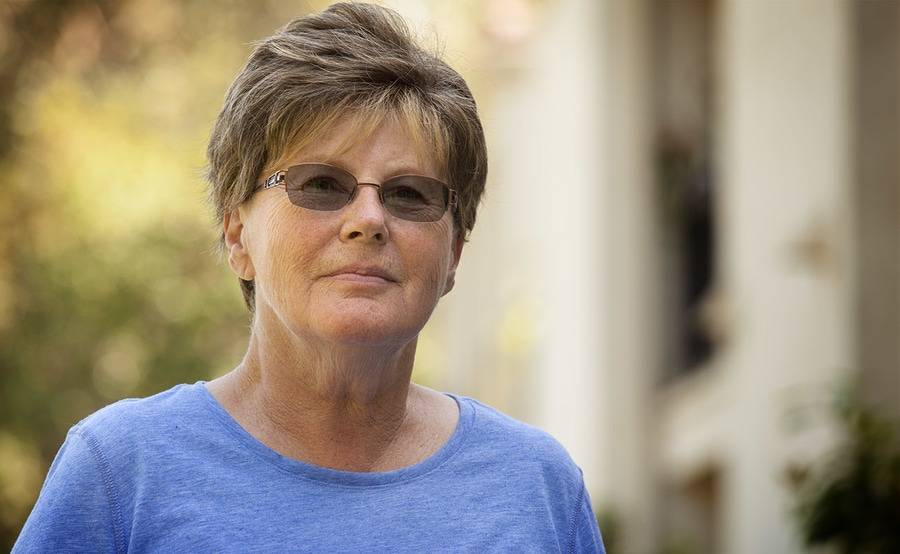 Stereotactic radiosurgery treated tumor in just three sessions
Vicki Ebertz had never had any serious health problems and enjoyed an active lifestyle – until the beginning of 2016, when she began losing her balance and falling down for no apparent reason.
"My leg would just give out from under me, and down I'd go," says Vicki, 68. "It started to happen more often, and eventually I had to use a cane. I also had problems hearing. It was pretty traumatic, and nobody knew what was going on." 
When X-rays, hearing exams and other tests came back normal, Vicki's Scripps primary care physician, Marianna Siksay, MD, ordered a brain MRI. Vicki learned she had a brain tumor on the vestibulocochlear nerve, in an area deep beneath her right ear, which directly affected her balance and hearing. 
"I was terrified," Vicki says. "When you hear you have a brain tumor, you immediately panic. You think you're going to die."
An alternative to brain surgery
Her doctors couldn't determine if the tumor was cancerous or not without a biopsy, but either way, Vicki needed treatment. Surgery was the most common option. Then Scripps radiation oncologist Patrick Linson, MD, recommended an alternative: CyberKnife stereotactic radiosurgery at Scripps Clinic Radiation Therapy Center Vista CyberKnife.
"Despite its name, radiosurgery is not a surgical procedure," says Dr. Linson. "Rather, it is a non-invasive form of radiation therapy treatment that accurately targets small and large tumors in the brain and body without exposing nearby tissue. So it is ideal for brain tumors." 
During the procedure, the patient lies on a table and a robot precisely delivers radiation to the tumor. A robotic arm, controlled by a computer, moves the radiation linear accelerator, focusing radiation exactly on the area being treated with sub-millimeter accuracy. On average, 200 beams are delivered in a single day. Patients usually receive one to five treatments, completed over the course of one week.
Vicki's CyberKnife treatment experience
Vicki received three treatments, each lasting about 45 minutes. She wore a customized mesh mask that helped to prevent excessive movement during treatment, and had to lie still. "As soon as someone tells you to hold perfectly still, your nose itches," she says with a laugh. "That was the hardest part." Even if she did move, a tracking device would tell the robot to adjust to her new position. 
"The treatment kind of drains you a bit, which was nothing compared to what you'd go through with brain surgery," Vicki says. "This was just more of an inconvenience. I had no pain, no nausea, no side effects." After each session, she took a nap, but otherwise went on with her usual activities.
As her treatments continued, Vicki became more hopeful. She regained her balance and hearing, and her post-treatment MRI showed that the tumor had shrunk to the size of a grain of sand. Her doctors don't expect it to return. 
"It was just so amazing because I fully expected to have brain surgery and I was very, very frightened," she says. "With CyberKnife, the worst of it was my nose itched and I was a little tired. It's not even as bad as an MRI. And everyone at Scripps was so wonderful and supportive."
Vicki says she would "absolutely" recommend CyberKnife to others. "I want people who are in the same situation to know that they don't have to be afraid or worry. It's truly a miracle."