The Health Risks of Drinking During COVID
Learn how increased alcohol consumption during lockdown can impact your health
Learn how increased alcohol consumption during lockdown can impact your health
In these uncertain times, it seems that some of us have turned happy hour into a daily routine for stress relief. 
According to data from market research firm Nielsen, in-store alcohol sales were up 54% in the week ending March 21, 2020 — around the time states began shutting down due to the COVID-19 pandemic — compared to the same week in 2019. Online sales soared 262% in that same time period, and 449% just two weeks later, by the same measure.
Dangers of drinking alcohol
While a few glasses of wine with dinner or a boozy Zoom catch-up may seem like a creative coping mechanism, it's easy to go overboard and tread into dangerous territory.
"People may have multiple drinks every so often, but if this becomes more frequent, it can become an issue and cause health problems," says Lance Johnson, MD, a family medicine physician at Scripps Clinic Encinitas.
People who binge drink — defined by the Centers for Disease Control and Prevention (CDC) as five or more drinks in a two-hour period for men, and four or more for women — are more likely to be injured in an accident, like a fall or car crash, or to engage in risky behaviors.
How alcohol affects your health
Many of us drink excessively without even realizing it. According to the CDC, "heavy drinking" is defined as eight or more drinks per week if you're a woman, and 15 or more drinks weekly for men.
Dr. Johnson explains that long-term drinkers have a higher likelihood of liver damage, acceleration of heart disease and even stroke. Other serious health problems linked to alcohol include:
Cancers of the breast, esophagus, liver, colon and head or neck
Pancreatitis and other digestive disorders
A weakened immune system, increasing your chances of getting sick
Learning and memory problems, including dementia and poor work or school performance
Mental health problems, including depression and anxiety
Continued alcohol use can lead to alcohol dependence, which further increases the risks of developing chronic health conditions.
These free tools from the National Institute on Alcohol Abuse and Alcoholism can help you analyze your drinking habits. And if you or a loved one is concerned about getting alcohol treatment while practicing social distancing, talk to your doctor about virtual options includes online peer support groups and professionally led programs.
"Knowing the risks will sometimes help steer people toward a path where we can decrease the amount they're drinking," Dr. Johnson says.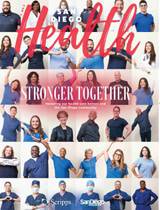 This content appeared in San Diego Health, a publication in partnership between Scripps and San Diego Magazine that celebrates the healthy spirit of San Diego.