Who Should Get a Flu Shot? (podcast)
Everyone 6 months and older should get one annually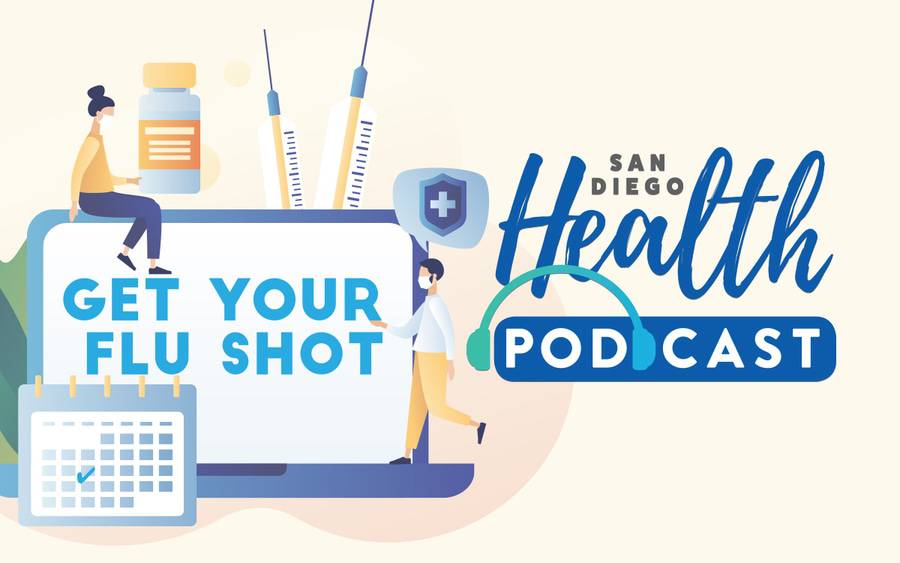 Everyone 6 months and older should get one annually
Though COVID has commanded the health care conversation for much of the year, we are heading into prime time for another highly contagious virus — the flu.
The Centers for Disease Control and Prevention (CDC) estimates that every year, five to 20 percent of population gets the flu, hundreds of thousands end up in the hospital and about 36,000 die from flu-related illnesses. The flu and coronavirus can have similar symptoms, so it's more important than ever that you protect yourself and get a flu shot.
In this episode of San Diego Health, host Susan Taylor and guest Siu Ming Geary, MD, an internal medicine physician with Scripps Clinic Ranch Bernardo, discuss who should get a flu shot, when and where to get one and what could potentially happen if you don't. They also talk about the potential for a "twindemic," referring to an overlapping pandemic and flu season that could overwhelm already taxed health care systems.
Listen to the episode on the benefits of getting a flu shot
Listen to the episode on the benefits of getting a flu shot
Who should get an annual flu shot? (1:03)
The Centers for Disease Control and Prevention recommends that everyone age six months and older get the flu vaccine. It's important for protecting against the flu and complications from the flu. It also helps to prevent people from having to take time off from work and from school.
Complications from the flu can lead to hospitalizations as well as death. If you can get the flu shot, now is the time to go get it.
When should you get a flu shot? (1:29)
The best time to get the flu vaccine is before there is flu in the community. Typically, the recommendation is about at least two weeks in advance. So, getting it in July and August — when sometimes we see it available in some pharmacies — is too early. If you get it too early, it may not last, particularly for our patients who are older. It may not last the entire flu season.
The ideal time is in the September and October time frame. It's still a good idea to get the flu vaccine even after October. Getting it in November or December, or January — provided that there's still flu circulating in the community — is still a good time to get it.
How long does it take to build up immunity after a flu shot? (2:12)
It takes an average of about two weeks for the body to develop immunity against the flu virus after you've had an injection. That's why you want to get it before there's flu in the community.
Does the flu shot protect you from getting COVID-19? (2:29)
The flu vaccine is very good at protecting against the flu virus. There are multiple strains of the flu virus, but the vaccines typically are protective against the three or four strains identified in the community that you're most likely to see circulating. But the COVID-19 virus is a different virus. The flu shot will not protect you against COVID-19.
The symptoms of the flu and the symptoms of COVID-19 are very similar. The complications from the flu and the complications from COVID also overlap. If you have protection against the flu, that will keep you out of the doctor's office for flu illness. It will keep you out of the hospital.
What are the side effects of the flu vaccine? (3:13)
Serious side effects are very uncommon. People may have achiness or soreness, a little swelling at the area of the flu vaccine injection. Some people may get a very mild headache, even fever or sometimes nausea or vomiting.
Who is most susceptible to getting the flu? (3:31)
Anybody is susceptible to getting the flu, but what we need to look at is who is at high risk of complications if they get the flu. That's really important to understand. People who are under the age of five or over the age of 65 are at higher risk of complications. People who are pregnant or have chronic medical conditions, such as diabetes or asthma or heart disease, are in that category also. Studies show that if you have these conditions, then you can actually have more high risk of death or illness — such as asthma exacerbation, more likely to have a cardiac event — if you don't get vaccinated and you get the flu during the season.
For people who are pregnant, not only is it important to get the flu vaccine during your pregnancy, but studies also show that after you've given birth. For all the moms out there who are going to be delivering during flu season, there's protection for your baby for the first few months after they're born. This is very important since we don't have a flu vaccine that's approved for infants under the age of six months.
What is a high-dose flu vaccine? Who gets it? (4:37)
Studies show that people who are older than 65 may not build as much of an immune response with the regular flu vaccine. The high dose vaccine has a higher dose of antigen to stimulate that response in people who need it, and that's people older than 65. It's very safe to take.
What is a "twindemic"? (5:17)
Obviously, a lot of attention is being focused on COVID-19 and we know that during flu season, we will see a lot of flu as well. Now, what does that mean? The risk factors for COVID and risk factors for flu are very similar, including people in close quarters, coughing, sneezing in close contact.
When we see flu season coming and are expecting the same risk factors for COVID overlapping, we may see double the amount of people who are sick. That means many more people in the clinics, in the hospitals, in our ICUs. That's what is being referred to as a twindemic.
Where can you get a flu shot at Scripps? (6:06)
We have flu vaccines available now. You can get them at your primary care doctor's office. If you have a regular appointment, they will offer you a vaccine immediately at that appointment. If you don't have an appointment coming up, you can schedule one at any of our multiple locations throughout San Diego County.
We have flu vaccine clinics, where you can schedule an office or drive-through visit. For the drive-through flu clinic, you make an appointment, wear a mask, roll down your window and get your vaccine, then drive off. We're excited about that. You never have to get out of your car.
We also have our Scripps Health Express clinics that are available by appointment only for flu vaccines. Like in previous years, flu shots are available at multiple HealthExpress locations through San Diego.
What safety precautions are in place at Scripps facilities? (6:54)
Your health is very important to us. We have a lot of safety measures in place to keep you safe. This includes mandatory face masks, special cleaning protocols and physical distancing.
When you come in, you will be very safe to come in and get your health care. That's not just for the flu vaccine, it's for all of your health care. Lots of measures in place. Your health is of the utmost importance here at Scripps.
Lightly edited for clarity
Watch the video on getting your annual flu shot