Optional Tests and Services
Early detection and prevention of your personal health risk factors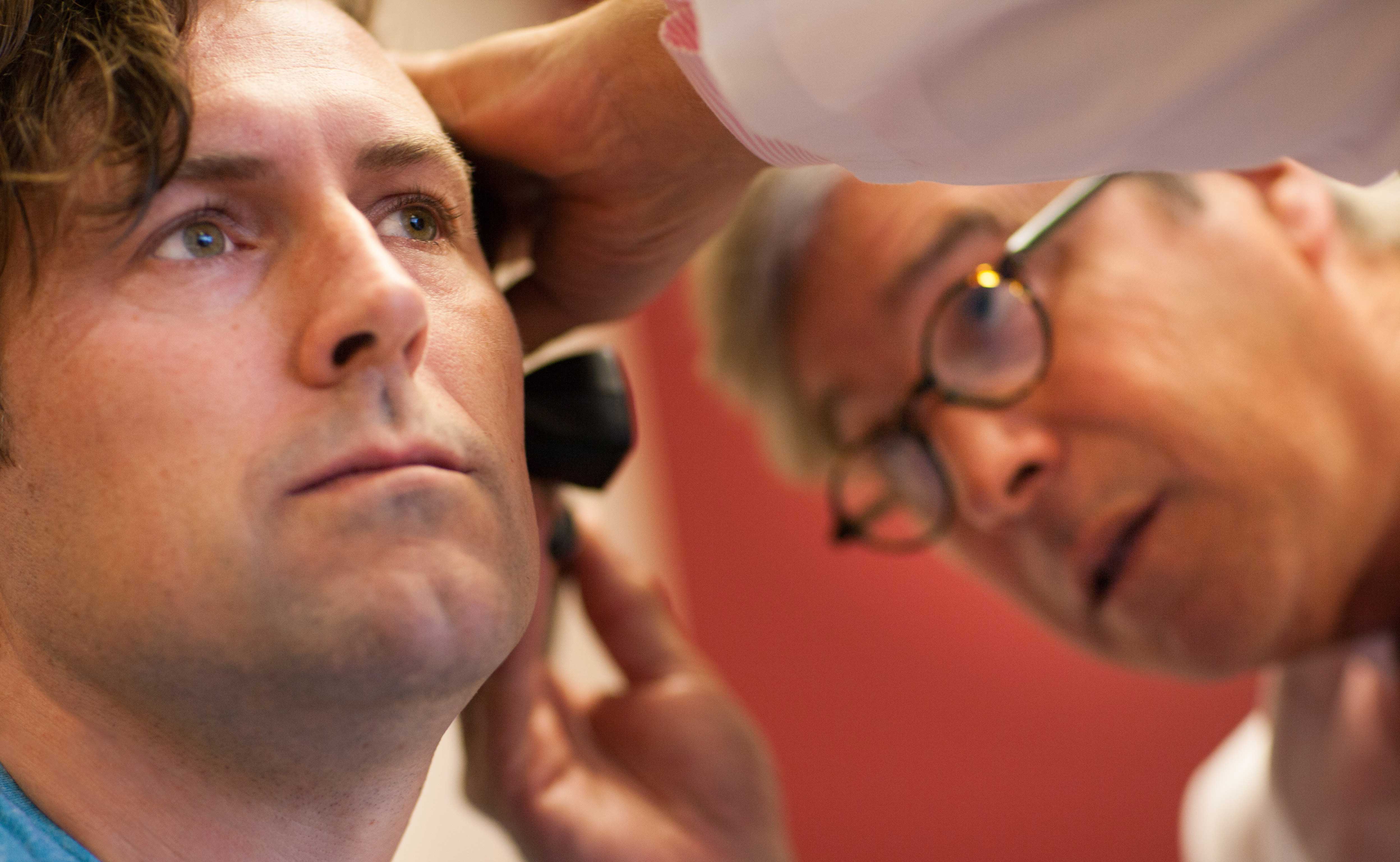 Early detection and prevention of your personal health risk factors
Depending on your individual health profile and risk factors, Scripps Center for Executive Health offers our executives several optional health tests and procedures that provide an advanced level of early detection and prevention. These services are available for an additional fee.
If you have questions or would like to add any of these procedures to your executive health examination, please contact us several days before your exam date as you may need to follow specific preparation guidelines.
Abdominal aortic ultrasound
An abdominal aortic aneurysm is a weakened, bulging spot in your abdominal aorta — the artery that runs through the middle of your abdomen supplying blood to the lower half of your body. The American College of Cardiology and American Heart Association recommends this procedure for men age 60 and older with a first-degree relative (parent or sibling) who has had an abdominal aortic aneurysm.
Acupuncture
Scripps Center for Executive Health also offers acupuncture for patients interested in alternative therapies. During this virtually painless procedure, our licensed acupuncturists carefully insert very thin needles into the skin at specific points in the body. Stimulating energy pathways throughout the body through acupuncture is thought to activate the body's own natural healing mechanisms. In 1997, acupuncture received a formal endorsement from the National Institutes of Health (NIH).
Colonoscopy
Colonoscopies are recommended for people 50 years of age and older for the early detection of colon cancer. If you are at increased risk for colon cancer, your doctor may recommend having a colonoscopy before age 50. This outpatient surgical procedure requires a day to prepare, during which time patients must stay on a liquid fast and follow a physician-prescribed preparation procedure. Colonoscopy is administered under "conscious sedation" and requires a responsible third party to take you home upon checkout.
Comprehensive eye exam
This comprehensive eye care evaluation with a Scripps ophthalmologist thoroughly checks the health of your pupils and retinas for eye diseases and abnormalities, and may include a prescription for corrective lenses or reading glasses.
CT chest scan (lung cancer screening)
CT technology can detect small nodules when lung cancer is at its earliest and most treatable state. This test is appropriate for current or former smokers, and people exposed to secondhand smoke or environmental hazards such as asbestos.
CT coronary artery calcium score
Coronary artery scanning using CT technology is a noninvasive test that can identify coronary arteriosclerosis (plaque) before the onset of heart disease. The scanner detects and quantifies areas of hard, calcified plaque and assigns a score; the higher the score, the greater the risk for heart disease.
DEXA scan (bone density testing)
Osteoporosis is a degenerative bone disease that leads to debilitating bone fractures. The Dual Energy X-ray Absorptiometry (DEXA) scan is an enhanced form of X-ray used to measure bone loss. Testing is recommended for men starting at age 60 and women at menopause.
Femoral artery ultrasound (coronary disease risk prediction)
Atherosclerotic cardiovascular disease is the leading cause of mortality and disability. Approximately 30 percent of first acute events are fatal. Recent studies in the Journal of American Cardiology found that screening for femoral plaques may be an appealing strategy for improving cardiovascular risk scales and predicting coronary disease. 
Genetic risk analysis for focused prevention
Genetic analysis services include a confidential, in-depth summary of your genetic predisposition for a variety of health conditions such as colon cancer, Type 2 diabetes and heart disease. Also included is unlimited access to genetic experts who will help you understand your results and what to focus on so you can take action.
Optional wellness procedures available for women include:
Cervical cytology and pelvic examination
Cervical cytology provides an evaluation of gynecological health and is used to detect cancer of the uterus and cervix.
Cancer antigen (CA-125 blood test)
This blood test is recommended for females over the age of 50. It is most effective for the early detection of ovarian cancer when tested in conjunction with a cervical cytology test, pelvic examination and pelvic ultrasound.
Well-woman hormone assessment
Hormone assessment is recommended for women concerned about hormonal changes associated with menopause. It includes LH (luteinizing hormone), FSH (follicle-stimulating hormone) and estradiol tests.