Types of mechanical circulatory support devices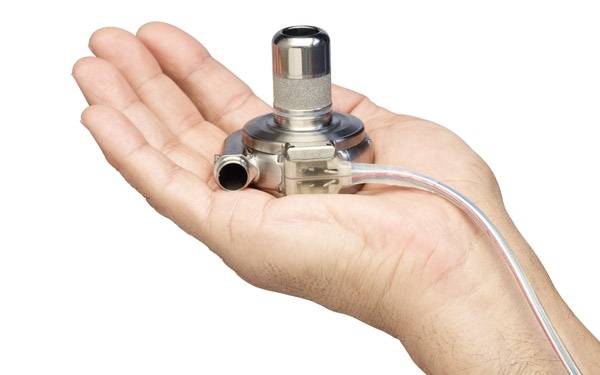 Types of mechanical circulatory support devices
A left ventricular assist device, or LVAD, works by pumping oxygen-rich blood from the heart's left ventricle to the aorta through which it circulates throughout the body. The mechanical device has three primary components:
A mechanical pump with an inflow and outflow cannula (tube)
A system controller
A pair of batteries
Scripps offers several short-term and long-term heart pumps for patients with advanced heart failure and cardiogenic shock.
Short-term mechanical circulatory support devices
Scripps offers short-term mechanical circulatory support options. Most of these devices are placed through an incision in the skin and do not require surgery. Scripps heart failure cardiologists and cardiothoracic surgeons provide patients with a full understanding of their pump options.
Extracorporeal membrane oxygenation (ECMO) refers to a pump that is outside the body and is used to temporarily support heart and lung function.
Various types of electromechanical pumps are available, but pumps with Food and Drug Administration (FDA) approval for long-term use are commonly referred to as "left ventricular assist devices" (LVAD) because they are surgically implanted in the left ventricular chamber of patients' hearts.
Cardiothoracic surgeons implant the LVAD in the left ventricular chamber of the patient's heart via an inflow cannula. Blood from the heart is pumped through an outflow cannula to the main artery (aorta) responsible for distributing blood to the entire body. The LVAD motor rests under the patient's rib cage. A thin cord called a driveline runs from the LVAD motor through a tiny opening in the skin and connects to the controller and batteries outside the patient's body. LVAD batteries are recharged nightly when plugged into a power module.
LVADs serve patients in several ways:
As a bridge to heart transplant surgery
As destination therapy (permanent treatment usually when heart transplant is not an option)
As a bridge to decision (heart transplant or permanent LVAD implantation)
As a bridge to recovery (LVAD is removed once the heart regains adequate contractile strength and can support the body's needs)
Learn more about what to expect before, during and after LVAD surgery.