Deep Brain Stimulation (DBS) Surgery
Treatment for movement disorders and Parkinson's disease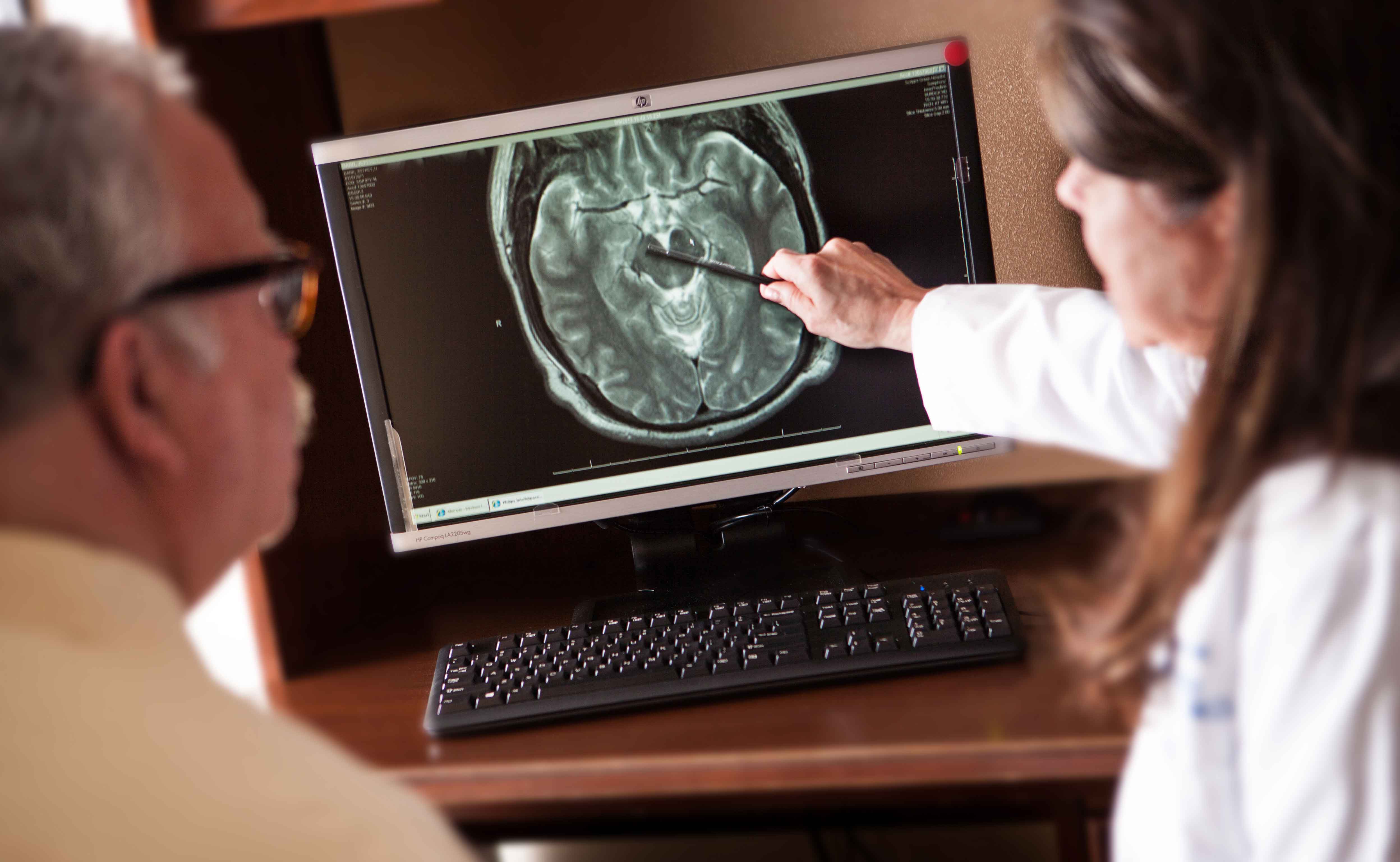 Treatment for movement disorders and Parkinson's disease
Scripps has more physicians trained in the specialized field of deep brain stimulation (DBS) than any other health care provider in San Diego. The FDA-approved surgery has helped more than 100,000 patients worldwide who have Parkinson's disease, essential tremor and dystonia.
Across San Diego County, Scripps doctors specially trained in DBS surgery are helping patients improve their quality of life through the surgical procedure. These neurologists and neurosurgeons work together to provide the most appropriate treatment.
DBS as a treatment option

DBS as a treatment option
Treating Parkinson's Disease

Treating Parkinson's Disease
DBS surgery at Scripps Clinic
The Deep Brain Stimulation Program at Scripps Clinic is part of the Parkinson's Disease and Movement Disorder Center in La Jolla. The expert team reviews and collaborates on each individual case to determine appropriateness for patients seeking DBS surgery when medications can no longer provide optimal symptom management.
What is deep brain stimulation surgery?
Deep brain stimulation (DBS) is a therapy most commonly used to treat symptoms of Parkinson's disease, including tremor, rigidity, stiffness, slowed movement and walking problems. DBS is also used to treat essential tremor, dystonia, and Tourette syndrome.
Deep brain stimulation surgery can be a treatment option when Parkinson's and related movement disorder symptoms can no longer be controlled with medications.
DBS uses an implanted device the size of a stopwatch under the skin of the chest. It delivers electrical stimulation through a thin insulated wire that connects to the leads placed in the the skull. The device is use to stimulate specific areas of the brain to treat and improve debilitating tremor and Parkinson's symptoms.
Deep brain stimulation as a treatment for Parkinson's disease
Because Parkinson's disease is considered a chronic and progressive disease, symptoms worsen over time. They may include physical tremor of hands, arms, legs, jaw and face; slowness of movement, stiffness of limbs and trunk; and unsteady balance and coordination. Left unchecked, the symptoms can impact your quality of life in simple daily activities.
While medications can help manage symptoms of Parkinson's disease, they cannot provide relief indefinitely. The majority of Parkinson's patients — after a "honeymoon" period of about five years while treated with medications — may begin to experience a decline due to progression of the underlying disease or develop intolerable side effects to the medications that may still be effective in treating the symptoms. Deep brain stimulation may lead to medication reduction or may keep patients in the on-medication state longer with fewer side effects from the medications.
Selecting the appropriate selection of patients who could benefit from deep brain stimulation, as well as appropriate placement of the leads, is the key to success in receiving optimal benefit from the surgery. At Scripps Clinic, deep brain stimulation treatment is tailored based on each patient's unique clinical needs.
DBS as a treatment option
Most candidates for deep brain stimulation surgery have had Parkinson's symptoms for several years and may be experiencing changes in the management of their disease, including:
Shorter duration of symptoms relief with medications
Use of different combinations of movement disorder medications
Symptoms that interfere with daily activities
"On/off" fluctuation of symptoms with involuntary "wiggly" types of movements due to the Parkinson's medications known as dyskinesia
Are you a candidate for DBS?
Deep brain stimulation surgery is a treatment that can improve some of the associated symptoms of Parkinson's disease. If you answer to yes to some of the questions below, it could be time to discuss DBS with a Scripps neurologist and find out if you may be a candidate.
Do you experience periods when medication is not helping enough and you are experiencing symptoms?
Do you experience troubling dyskinesias?
Do you take frequent doses of dopaminergic drugs (pramipexole [Mirapex], ropinirole [Requip], carbidopa/levodopa, Sinemet, Stalevo, Parcopa, Rytary) in a typical day?
Despite having been prescribed different drug combinations, do you experience any of the following side effects: sleepiness, nausea, hallucinations, confusion/other thinking problems, lightheadedness upon standing, behavioral/personality changes?
Scripps News
Classes & Events