Parkinson's Disease Rehabilitation
Experts in reducing Parkinson's disease symptoms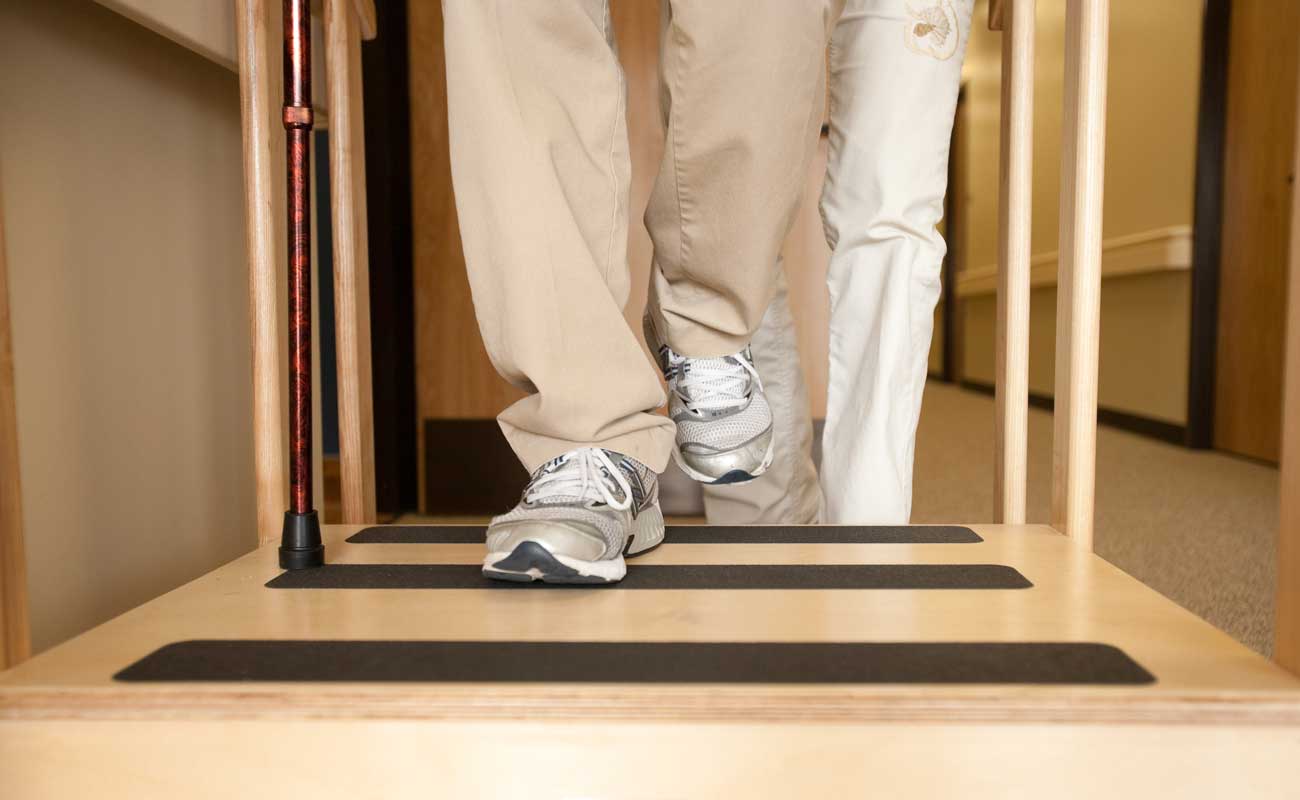 Experts in reducing Parkinson's disease symptoms
Parkinson's disease is a nervous system disorder that affects movement, producing symptoms such as tremor, stiffness, rigid muscles, speech problems and trouble walking.
Its onset is progressive, meaning symptoms get worse over time, but while Parkinson's can't be cured its symptoms can be managed with proper diagnosis and treatment, and rehabilitation including physical, occupational and speech therapies.
Parkinson's symptoms and rehab treatment
The goal of rehabilitation for people with Parkinson's is to help alleviate symptoms and compensate for some of the physical and neurological problems caused by the disease. Specifically, therapy can address:
Muscle and joint stiffness, pain and weakness
Balance problems
Lack of coordination
Trouble walking (gait)
Fatigue
Speech and voice problems
Parkinson's disease rehab treatment
The physical therapists are specially trained to care for people with neurological conditions and treat Parkinson's patients throughout San Diego. Advanced certifications include Neuro-Developmental Treatment (NDT) certification, neurological clinical specialists (NCS), and Lee Silverman Voice Treatment certification.
As needed for their particular treatment plan, Scripps patients have access to a variety of physical therapy services for Parkinson's disease including:
Evaluation of daily living activities and adaptations
Recommendations for energy conservation
Recommendations for work simplification
ReVive: Inpatient rehabilitation and deep brain stimulation
Additionally, Scripps Memorial Hospital Encinitas offers an inpatient Parkinson's treatment program called ReVive that combines therapy with counseling services and, in partnership with Scripps neurosurgeons and neurologists, initial management of deep brain stimulation (DBS).
DBS is a customizable and reversible surgical procedure that delivers electrical stimulation to targeted areas of the brain in order to significantly reduce Parkinson's symptoms. Together, this combination of therapies can help you regain mobility and function.
Patients who participate in the ReVive program receive one to three weeks of acute inpatient rehabilitation to ensure proper medical and psychological care along with specialized rehabilitative therapy, including:
Medication adjustments
Speech therapy to improve communication skills
Strength and coordination building to increase mobility and ability to perform activities of daily living (such as bathing, dressing, and making dinner)
Diet and exercise
Caregiver training and counseling
Lee Silverman Voice Treatment
Speech and voice disorder therapy
Because speech and voice disorders are common in those with Parkinson's disease, speech language pathologists at several Scripps locations specialize in Lee Silverman Voice Treatment (LSVT) LOUD — an evidence-based training technique that focuses on improving voice quality, articulation and vocal intensity.
LSVT LOUD improves vocal loudness by stimulating the muscles of the voice box (larynx) and speech mechanism through a series of exercises. The goal of treatment is to bring the voice to an improved, healthy loudness level with no strain, so the patient can participate in conversations and have greater confidence in social settings.
To simultaneously treat the unique movement impairments caused by Parkinson's disease, physical therapists at several Scripps locations also offer LSVT BIG. Using core movements and other exercises, the training focuses on improving speed, trunk rotation, gait and balance.
The LSVT program is offered on an outpatient basis. A referral from a primary care physician or specialist is required.
Parkinson's disease rehab locations
The following Scripps Health locations in San Diego County offer outpatient rehabilitation services for people with Parkinson's disease, including physical, occupational and speech therapy: