Notes on Haiti - CEO Journal Part 8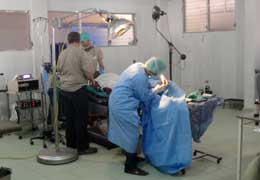 Note: While serving a medical mission to Haiti, Scripps CEO Chris Van Gorder is writing dispatches about medical aid in progress, conditions on the ground and what can be done to help earthquake victims. For other journal entries, see the Haiti news page.
This was a very busy day and the first day when our full team was able to operate together. We were up for breakfast at 6 a.m. and then off to the hospital. All of the churches in Port-au-Prince have been damaged or destroyed, so Sunday church services were held outside, and we saw several services taking place with large crowds during the morning.
As I have mentioned in previous reports, Saint Francois de Sales is in one of the areas that sustained significant damage from the earthquake. In fact, the hospital is only one mile from the epicenter. I was able to tour the areas adjacent to the hospital this morning and it is just too difficult to describe the damage. I suspect, however, that our patients could describe the earthquake — but in personal terms.
A few minutes ago, I went on patient rounds with Dr. Eastman, Kelly Hardiman, and Deb McQuillen. We first stopped to see an 18-year-old girl who had surgery yesterday on a crush injury to her leg. Normally, we keep the conversation to the medical issues, but now we are starting to ask questions about what happened. In the case of this 18-year-old, she was crushed in her home where her father, mother, sister and brother were killed. She did have extended family with her, but her immediate family is gone.
The next patient we saw was a 56-year-old man operated on yesterday by Dr. Drew Peterson. The patient had sustained a fractured femur when a staircase fell on him. His nephew was killed. Then we visited with a 58-year-old man who, after the earthquake, is now a paraplegic. We are finding that many of the paraplegic patients are developing skin ulcers — and the special beds and tools we normally would use are just not available.
Earlier today, Dr. Eastman changed the bandages on a 100-year-old woman suffering from an ankle injury. She was in significant pain and being treated with the utmost care and compassion, even though many of the tools we would normally use in a hospital are not available here.
This morning, I traveled to the northeast part of Port-au-Prince with one of our boarding school helpers, Patrick Monyinhan, to a region called Santos. It's pretty easy to know where you are because each street is named "Santos" followed by a number, so we get "Santos 1," "Santos 2," etc.
The reason I traveled to the area was to visit a compound run by "Father Joe" (a different Father Joe than in San Diego). He runs a large compound for seminarians that includes a large soccer field, large-scale kitchen, medical facility, etc. The thought was that, eventually, Hospital Saint Francois de Sales will have to be either closed or scaled back significantly, and the patients from not only "our" hospital but others will need a wound care facility. Father Joe's compound had been identified as a possible location, so I was asked to visit with one of our hosts to talk to the physician in charge — a doctor from Memphis. He appeared to be interested in making his facility available for that purpose, so we exchanged contact information and I will follow-up with him later.
I then visited Patrick's boarding school. Most of the children are not there right now as the government of Haiti has a 30-day moratorium on attending school due to the earthquake, but many of the children were at the school anyway. This was an opportunity to see many Haitians returning to some normalcy — something that's difficult to see at the hospital.
Last night at dinner, a group of Catholic Bishops joined us, visiting from the Dominican Republic. They came by the hospital today to tour with the Nuncio, as well. During the dinner discussion last night (as I mentioned earlier), I found out that much of the Catholic Church in Haiti's infrastructure was destroyed in the earthquake, making the Nuncio's job very difficult right now. Yet, he has been the perfect, gracious host. We were told that the Archbishop to Haiti was killed along with all of his senior staff and clergy. All of the churches in Port-au-Prince were damaged or destroyed and there are concerns about the loss of priceless historical documents and archaeological artifacts held by the church — more than 300 years of church history dating back to Christopher Columbus. The history of Haiti and the Catholic Church are very much synonymous.
Well, we have 67 inpatients at our hospital right now and we have become organized with supplies and an operating room schedule. Tents and beds are now labeled for patient tracking and, as of today, all patients are identified by a wrist band and number. Regular patient rounds are being conducted by multi-disciplinary teams, and we are making the difference we had hoped to make.
The work is very tiring in hot (9O degree) heat with increasing humidity. We try to keep cool with fans, but that seems to be a losing battle. We all look forward to the evening when the weather starts to cool.
I'm pleased to see that the University of Maryland's "Shock and Trauma" team members are rounding and operating with our team — it makes for better care. It's easy to spot the University of Maryland staff, as they all wear "pink" scrubs.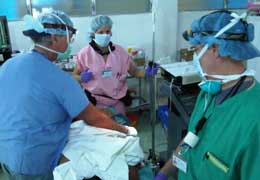 Dr. Mike Capozza provided the anesthesia for Haitian doctors today on at least two cases, and both the Haitian physicians and Dr. Capozza were pleased with the outcomes.
Thanks again for all the notes. Some of you have asked what you can send the Haitians to help — shoes, blankets, clothes, etc. The truth of the matter is that those types of things are still too hard to distribute. If you want to provide that type of assistance, it's best to donate to one of the non-governmental organizations that are established here in Haiti. One NGO which has been a big help to us (they are currently putting up screens to keep the flies and mosquitoes out of the operating rooms) is Catholic Relief Services. Their cars and people are all over the island.
Talk to you soon.
Chris Van Gorder
See the Haiti news page for other journal entries.